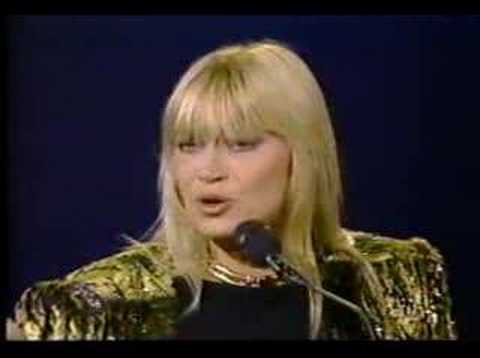 Anti-war song was hit for The Kingston Trio, Peter Paul and Mary and Johnny Rivers
http://www.youtube.com/watch?v=pYii6nxhvUk
'Where Have All The Flowers Gone' Peter Paul and Mary (Live)
While Pete Seeger has yet to chart # 1 for his own performances, he has written many hit songs. Pete Seeger wrote this gentle, anti-war song in 1955.
Please support the effort to give Peter Seeger a # 1 song as he reaches his 93rd year of spreading music and peace in the world.

In 1960 Joe Hickerson added verses and turned into a circular song. First sung by the Kingston Trio then Peter Paul and Mary. Staple folk song sing from the 1960s – everyone could sing or play it and we did. Since then has been covered by Marlene Dietrich, The Searchers, Bobby Darin, Eddy Arnold, U2 for more than 30 covers.
The song reached #21 on the Billboard charts in 1962 for The Kingston Trio. It was part of the first Peter Paul and Mary album and stayed at #1 on the charts for 5 weeks.
http://www.youtube.com/watch?v=uBtT9NfWtbE
'Where Have All The Flowers Gone' – The Kingston Trio
Rock and roll singer Johnny Rivers made # 26 on the Billboard charts with his version.
The song has gone around the world and back again, translated in many languages with its universal message.
Pete Seeger was inspired by the Cossack folk song "Tobchu, tovchu, mak" and the lines "Where are the flowers, the girls have plucked them. Where are the girls, they've all taken husbands. Where are the men, they're all in the army.
http://www.youtube.com/watch?v=TXqTf8DU6a0
'Where Have All The Flowers Gone' – Pete Seeger, Arlo Guthrie, and his grand son Tao Rodriquez/ Seeger
Help out by celebrating the life of a great American who is a musician for the people of the world –
Make Pete Seeger the Oldest Person With a #1 Hit
With background information from Wikipedia.
By Stephen Pate, StephenPate.com