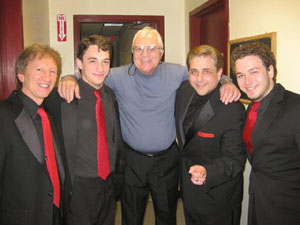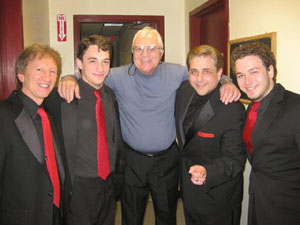 What do you do when you are blessed with a distinctive voice like that of a Bobby Darrin, the power and charisma in your voice of an Al Jolson, the pitch and rhythm of Tony Bennett and the swinging style and sound of Sinatra?
Well…you SING!!!! You sing your heart out in high-energy performances, and because you are more that just a singer, you also compose your own hit tunes and record a triple CD album, "Singin" and Swingin' with Tony B. With all these legendary singers as his foundation, Tony Babino climbs even higher in the multitalented department. Tony uses the past as a stepping-stone to future ideas and songs using the past to give his newer tunes the roots they need to make them standards. In a new world of music that is constantly changing it's likes and dislikes.
Thankfully, there is still an audience out there that respects true talent, that still enjoy remembering the melody to the song they heard on the radio… fans who still like to dance in a warm embrace, who still make love to the sound of a romantic troubadour enticing them with his heartfelt songs.
Like so many native New Yorker singers, Tony Babino started singing at an early age. It didn't take him long to discover and appreciate the big band sound from the past, plus top singers like Bobby Darin, Tony Bennett, Paul McCartney, and the historically renowned Al Jolson. There are some who believe Tony's impression of the great Al Jolson is uncanny. I would have to agree. When I hear him impersonating Al Jolson, it's as if I'm among the privileged listeners who are hearing the Jolson voice and magic for the first time.
As a composer, Tony Babino has several of his own songs on this CD. Two of these songs are causing a stir with music lovers everywhere. One is his original songs titled, "50 years" has been the # 1 requested tune on WHLI Radio station in Long Island N.Y The other tune is a combination of sounds, jazz, pop, and for good measure, a whole lot of soul. It's title:"Sentimental Heartstrings", this is a song for everyone who has lost at love, in other words, it's a song for everybody. It's the kind of song you just sit back and listen to and let the music and words tug ever so lovingly at your heartstrings.
Tony Babino appears regularly at the most prestigious of clubs and Casinos: The Trump TAj Mahal, The showboat casino Hotel, Bally's Grand, The Tropicana, Mohegan Sun and the Sands. Tony's talent also takes him to the film industry where he wrote the featured song in the hit film" THE CREW" for Touchtone Pictures. He has also composed an original motion picture soundtrack, Milan Records/ BMG
Radio Hall of Fame talk show host, Joey Reynolds, of WOR radio, NY, compares Tony's energy and excitement for his craft with that of Bobby Darrin when he first bust upon the scene.
The song from this CD collection "Sentimental Heartstrings" was featured in the CBS. Com animated series, "Innertube". It's a touching and unique song for this day and I believe it should be appreciated as one of the best torch songs ever written.
Among his many appearances and recordings, Tony has found time to record " The Little Drummer Boy" for the film " The ice Harvest, (Focus Features). He also sang on the soundtrack of "Capitalism: A Love Story." Tony's voice has been heard in television and radio commercials for EXXON, ESPN, REISENS Candy, Temple University Healthcare, USA Network, and the Megabucks Lottery. In March of 2001, Tony marked his Off-Broadway debut by receiving critical acclaim for his portrayal of bandleader "Lane Stevens", in "ROCKSTAR".
TONY HAS JUST RECENTLY APPEARED WITH THE FABULOUS PAT COOPER IN THE COMIC'S HISTORIC FAREWELL TOUR OF THIS GREAT ITALIAN AMERICNA COMEDIAN.
TO SAY TONY IS A BUSY MAN IS TO SAY IT LIKE IT IS…HE'S IN DEMAND AND THAT'S A VERY GOOD THING!
Acclaimed author Richard Grudens put it best…. when he called Tony, "A Singing Storm who keeps the music going strong…Sinatra, Bennett, Darin, & Jolson, all in one".