This article was last updated on April 16, 2022
Canada:

Oye! Times readers Get FREE $30 to spend on Amazon, Walmart…
USA:

Oye! Times readers Get FREE $30 to spend on Amazon, Walmart…Celebrating the 100th Birthday of Woody Guthrie – Rounder's 4 CD box set of Woody Guthrie's lost recordings


Woody Guthrie was born July 12, 1912 making this the centenary of his birth. 'My Dusty Road' is a great way to appreciate the music of Woody Guthrie to mark the occasion.
Bob Dylan, Pete Seeger, Bruce Springsteen and almost every singer songwriter you can name owes a debt to Woody Guthrie.
Everyone knows at least one Woody Guthrie song, probably 'This Land is Your Land'.
There have been celebrations all over the world in remembrance of his life and music.
I wanted to revisit Woody's music apart from his social significance. One of the best compilations of Guthrie's music is "My Dusty Road" on Rounder Records. The 4 CD set is a musical treat with 54 songs, some of them never released before, an unheard recording session and the collector's packaging. I covered the 2009 release in Woody Guthrie's lost recordings released from the historical perspective.
"My Dusty Road" covers who Woody Guthrie was as a musician and social activist. The CDs and music are arranged by theme: Woody's Greatest Hits, Woody the Agitator, Woody Cisco and Sonny, and Woody's Roots.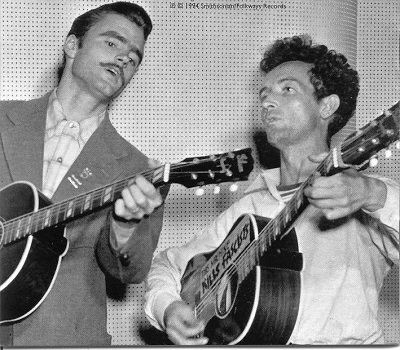 Cisco and Sonny give the recordings extra musical appeal with harmony vocals, guitar accompaniment and hot harmonica performances.
Woody had a dry, laconic style of singing that might tire for some listeners who should appreciate the extra vocalists, lead guitar and harmonica backing.
Cisco Houston was an accomplished singer with a warm baritone voice. Cisco was also a better guitar player than Woody Guthrie with accomplished flat picking. Woody played a form of Mother Maybelle Carter guitar style.
Sonny Terry was a famed blind harp player known for lightning fast notes, whoops and hollers. Sonny often appeared in the popular folk blues duo Sonny Terry and Brownie McGhee during the folk boom. One of my favorite memories was interviewing them during the 1960s in Halifax, Nova Scotia. Sonny Terry appeared at Carnegie Hall, on Broadway and in the movie "The Color Purple."
Woody's Greatest Hits

There are other famous Woody Guthrie songs but we only get the songs recorded at that session in 1944. The sound is pristine and has been lovingly restored.
Woody the Agitator
Woody Guthrie was at heart a socialist and populist. He was not in love with fame and money but went out of his way to be part of the working man's life.
He wrote songs supporting unions because industry kept the workers in poverty. If that sounds like the "99%" it is no accident. Big business is beating the unions back today while tens of millions of working families lose their jobs, homes and security.
Woody Guthrie was no saint but he identified with working families and wrote and sang songs to support them.
He was able to merge his love for people and socialism with dislike for Fascism in World War II with a sign on his guitar that plainly declared "This machine kills Fascists." He joined the U. S. Merchant Marine and US Army.
Woody Cisco and Sonny

"Sonny Terry blew and whipped, beat, fanned and petted his harmonica," Woody wrote of that session, "cooed to it like a weed hill turtle dove, cried to it like some worried woman come to ease his worried mind."
It's a priceless session worthy of its own release.
Woody's Roots
Woody's Roots explores the Americana that influenced Woody such as cowboy, sacred, country, especially The Carter Family, and black blues singers. The accompanying booklet traces Woody to The Carter Family, his musical idols, and their debt to black rural singers in the American South.
Staples like 'Worried Man Blues', 'Little Darling Pal of Mine', 'Stewball', 'Stackolee (Stagg-o-lee)' and 'Chisholm Trail' are now standard folk music fare. Woody also has a taste for parlor songs of the last century with 'A Picture From Life's Other Side'.
Woody Guthrie is the forerunner of the folk singers of the 50s and 60s. That heritage passed to folk singers by Pete Seeger, along with Woody's social activism.
The parallel between Woody Guthrie singing these old songs and Bob Dylan's 2 CD in the early 1990s is too easy to miss. Dylan mines the same roots in Good as I Been to You and World Gone Wrong. Bob Dylan owed his roots to Woody and 100 years of American music and you have to pay your debts.
My Dusty Roads – box set

The suitcase package is so unique it never left my desk for 3 years.
Inside are the 4 CDs, a 63 page booklet that deserves an award for presentation and historical value, a 1947 Notice of Booking for Woody, a postcard from the road to his wife in Brooklyn NY and Woody's business card.
Holding the cards and suitcase gives you a feel for Woody's life in the 1940s. The package is a treat and adds to the music inside with nostalgic touches.
How these recordings were found and released is a detective story. In 1944, Woody recorded hundreds of his songs for Stinson Records with Moe Asch (later of Folkways Records) and Herbert Harris. The metal masters were lost in time after the death of Herbert and his son Robert. Robert Harris' wife Irene passed the masters on to her neighbor and friend Lucia Sutera.
The story, full of twists and turns and human drama, is told in the 63 page book that accompanies the disk. True to form, the booklet also details the individual songs and recording session note in summary.
I have no quibbles or complaints, except I'd like a few more songs from the 1930s, but I have the RCA Vintage 'Dust Bowl Ballads' to fill that niche.
Where to find My Dusty Roads
While I list the MP3, it does not have the suitcase, booklet and cards. It misses an important part of the box set. The individual CDs are available in vinyl which again misses the box set contents.
By Stephen Pate, NJN Network
You can publish this article on your website as long as you provide a link back to this page.