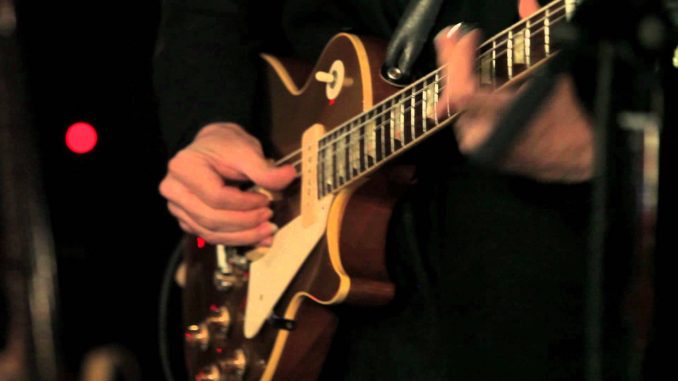 This article was last updated on April 16, 2022
Canada:

Oye! Times readers Get FREE $30 to spend on Amazon, Walmart…
USA:

Oye! Times readers Get FREE $30 to spend on Amazon, Walmart…Deluxe Edition adds two more songs with Patty Loveless to an already excellent CD
Last year's CD "Kings and Queens" by Blackie and the Rodeo Kings got a re-release with 2 more songs (16 total) and new packaging in September.
At 14 tracks of duets with some of the top female vocalists in country music, I'm not sure if the CD needed two more cuts but one should never resist a song by Patty Loveless. They gave us two duets with Patty in the Deluxe Edition.
"Kings and Queens" is a warm excursion in the land of cross genre music that is authentic and modern at the same time. A bit country, blues, rock, ballad and roots bundled with tasty vocals and arrangements.
Blackie and the Rodeo Kings (BARK) are a super-group project of Colin Linden (extra-ordinary guitarist and Nashville producer), Tom Wilson (rocker from Junkhouse and Lee Harvey Osmond) and Stephen Fearing (singer songwriter).
The project concept was to pair the boys with the best in female singers. Colin Linden used his Nashville contacts to convince Rosanne Cash, Emmylou Harris, Pam Tillis, Serena Ryder, Lucinda Williams, Cassandra Wilson, Amy Helm, Janiva Magness, Mary Margaret O'Hara, Sam Phillips, Sara Watkins, Exene Cervenka, Patti Scialfa, and Holy Cole to record duets with BARK.
It took three years to complete the CD. Then add another year again for Patty Loveless and the Deluxe Edition.

'Black Sheep' by Blackie and the Rodeo Kings featuring Serena Ryder and Stephen Fearing
"Black Sheep", a song by Stephen Fearing, is a good example of the excellent music on the CD. The video is from a CBC studio recording and follows the CD closely. Serena Rider is smokey voiced and sultry – "looking for love" – perfect for the song. Stephen Fearing gives the song his soul. Tom Wilson is solid on rhythm guitar and Colin Linden adds some of the smoothest licks and slide guitar this side of Nashville.
This is a guy-band so sometimes great female voices get buried in the arrangements as backup singers. On other songs like Pam Tillis' "My Town Has Moved Away" she dominates the vocal and pushes Stephen Fearing in the backup role. Pam Tillis is an under-rated singer these days but she proves how great she can be in that song.
They never got all the singers in the same room with the band in all cases – everyone has a busy schedule – but you would never know it from the tight arrangements. On "Shelter Me" Patti Scialfa, who happens to be married to Bruce Springsteen, recorded her part in her own studio and Colin Linden had to dub against her powerful voice.
Colin Linden gave a detailed interview to the Globe and Mail about how they arranged each song, if you are interested.
You can also follow the YouTube link back to a few short videos that show how they did the over-dubs.
Blackie and the Rodeo Kings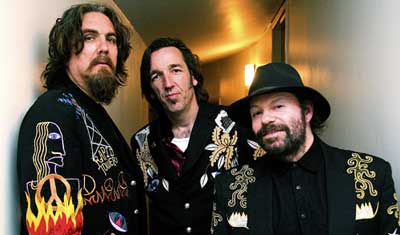 Blackie and the Rodeo Kings was formed in 1996 as a one-CD project by Stephen Fearing and Colin Linden to honor an-otherwise obscure Canadian songwriter, Willie P. Bennett.
"Kings and Queens" is their 7th CD.
"Stephen (Fearing) called to say he and Colin (Linden) had been kicking around the idea of forming a group to record a tribute album to songwriter Stephen P. Bennett," wrote Bernie Finkelstein in his memoir "True North" about his career as the manager and owner of True North Records.
Finkelstein describe Stephen Fearing as a "brilliant songwriter" and "a unique artist". "I have always considered Stephen to be a very special talent."
"Colin was something of a child prodigy, an amazing guitar player with an encyclopedic knowledge of music…especially when it came to his first love, the blues."
"Fortunately for me, I agreed to have lunch with Stephen, Colin and Tom Wilson, Tom who was going to be the third member of Blackie is a big, talented lovable guy you could easily mistake for a biker."
All three continue to have separate careers while touring and recording as Blackie and the Rodeo Kings.
Colin Linden is a successful blues recording artist and record producer in Nashville.
Tom Wilson is in the "acid-country" group Lee Harvey Osmond a collaboration with Michael Timmins of the Cowboy Junkies.
Stephen Fearing is a busy singer songwriter who tours as a single and duet act.
Collectively and individually, they have so many projects on the go it's hard for me to keep up.
Blackie and the Rodeo Kings Live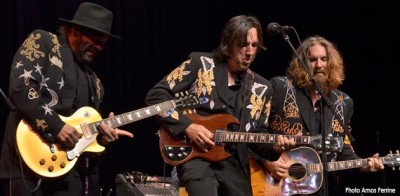 Colin, Stephen and Tom put on their Nudie-style jackets and become the larger than life Blackie and the Rodeo Kings on stage.
I was blown away by their performance when I first saw them one Christmas at the Horseshoe Tavern in Toronto with Bruce Cockburn. They put on a great show.
Catch them this fall in the following cities on the Kings and Queens Tour.
Oct 20 Franklin, TN
Nov 7 Orillia, ON
Nov 8 Port Dover, ON
Nov 9 Ottawa, ON
Nov 10 Cornwall, ON
Nov 11 Picton, ON
Nov 14 Sudbury, ON
Nov 15 Sault Ste Marie, ON
Nov 17 Regina, SK
Nov 18 Winnipeg, MB
Nov 19 Swift Current, SK
Nov 20 Saskatoon, SK
Nov 21 Edmonton, AB
Nov 23 Calgary, AB
Nov 25 Nanaimo, BC
Nov 26 Courtenay, BC
Nov 27 Vancouver, BC
Nov 29 Peterborough, ON
Dec 1 London, ON (2 shows)
Dec 7 Hamilton, ON
Review CD and additional content supplied by Killbeat Music.
By Stephen Pate, NJN Network
You can publish this article on your website as long as you provide a link back to this page.