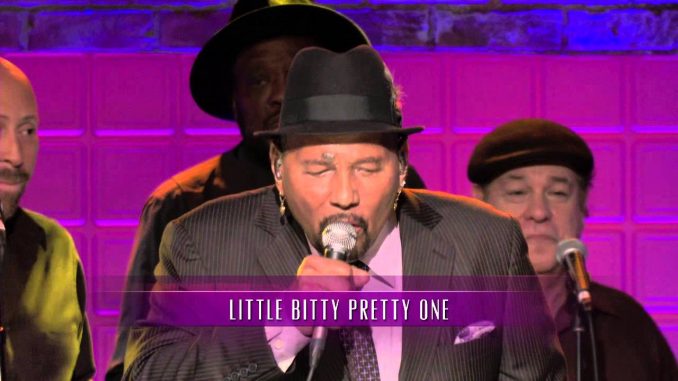 Boomers get ready to have the hair stand up on the back of your neck – PBS to broadcast Aaron Neville's "My True Story" in March 2013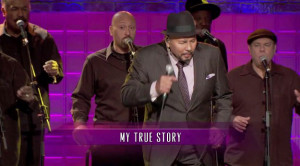 This may be the hot and feel-good music CD and video of the year with Keith Richards and Don Was sharing production credits.
Aaron Neville, one of the sweetest voices this side of heaven, recorded a new CD "My True Story" a tribute to Doo-Wop music of the 50s and 60s.
The CD is a collection of Aaron Neville's favourite Doo Wop songs. If anyone can sing Doo Wop lead it is Aaron Neville.
One reviewer said the performance gave him "goosebumps all over my body. Thank you, Mr. Neville… thank you."

PBS promotional video for "My True Story"
"These songs helped to mold me into who I am," says Aaron Neville. "They're all
dear to my heart, and they rode with me, in my bones, through all these years."
"I attended the university of doo-wop-ology," Neville says. "Anything I do has got some doo-wop in it. It's just part of me—it's the texture that I'm singing in, it's the endings, it's the harmonies. At 3 o'clock in the morning, I wake up with a doo-wop song going in my head and I can't go back to sleep because I'm singing it over and over."

"Doo-wop started with five guys, like the Clovers—or five girls, like the Chantels or the Shirelles —singing harmony together on a bench or a stoop," he says. "So I always thought 'Be My Baby' was a doo-wop song, because it's a lead singer with harmony singers.
"I came up in the doo-wop era, and if I heard something and thought it was doo-wop, then it was. So if it didn't fall in that category before, then it does now!"
The CD was produced by Don Was and Keith Richards and will be released on January 22, 2013.
PBS Special "My True Story" March 2013
PBS taped a 90 minute special of the album featuring Paul Simon and Joan Osborne (If God Was One of Us/Funk Brothers). From the promotional video it looks like an awesome show. Mark it down for March 2013 broadcast.
PBS, a long time supporter of Doo-Wop and other American music, rented The Brooklyn Bowl, a bowling alley, to record the special and invited an appreciative audience. It's like Saturday Dance at a local club with couples dancing and grooving to the music. Check out one lucky fan's review of the night.
Along with his guests Neville applies his velvet voices to Do Wop classics like "My True Story, "Ruby Baby", "Gypsy Woman", "Be My Baby", "Little Bitty Pretty One" and "Under The Boardwalk". The set list is further down the story.
Production by Keith Richards and Don Was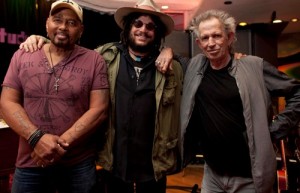 Keith Richards (The Rolling Stones) co-produced the CD with legendary rock producer / musician and now Blue Note Records president Don Was.
Richards is simply one of the best rock guitarists of all time. He always had a deep appreciation for classic rock and roll. This is not his first production credit. He was the driving force behind the excellent movie about Chuck Berry "Hail Hail Rock and Roll.
Don Was produced artists from Bob Dylan to John Mayer and Hootie and the Blowfish. He produced Bonnie Raitt's Grammy Award winning "Nick of Time" CD, which is a classic. Was is a rock legend who has helped more careers with his skills and won a few Grammy's for the artists and himself. Was produced every Stones album since Voodoo Lounge in 1995.
Along with Richards, the band includes heavy hitters from other bands: Benmont Tench organ (Tom Petty and the Heartbreakers) Greg Leisz guitar (Beck), George G. Receli (Bob Dylan), Tony Scherr bass (Norah Jones), and Charles Neville saxophone (Neville Brothers).
Also on board are Michael Goods organ/piano, and Joel Katz, David Johnson and Earl Smith, Jr. on background vocals.
The concert, not the CD, will feature guests including Eugene Pitt of the Jive Five and Dickie Harmon from the Del-Vikings.
Song List (songwriters)
Do you remember the artists who made these songs hits? Leave a comment.
1. Money Honey (Jesse A. Stone)
2. My True Story (Eugene Pitt & Oscar Waltzer)
3. Ruby Baby (Jerry Leiber & Michael Stoller)
4. Gypsy Woman (Curtis Mayfield)
5. Ting a Ling (Nugetre)
6. Be My Baby (Jeff Barry, Ellie Greenwich & Phillip Spector)
7. Little Bitty Pretty One (Robert J. Byrd)
8. Tears On My Pillow (Sylvester Bradford & Al Lewis)
9. Under The Boardwalk (Arthur Resnick & Kenny Young)
10. Work With Me Annie (Hank Ballard)
11. This Magic Moment / True Love (Medley) (Doc Pomus & Mort Shuman)
12. Goodnight My Love (Pleasant Dreams) (John S. Marascalco & George Motola)