When Taylor Swift sang "We Are Never Ever Getting Back Together" at the NRJ Music Awards she was just following Bob Dylan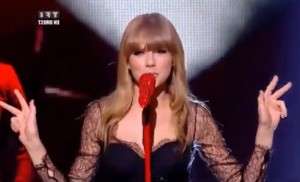 Some critics pick at the Pop Country singer Taylor Swift for writing songs like "We Are Never Ever Getting Back Together", sung recently at the NRJ Music Awards.
Taylor Swift's song is a firm put-down of an ex-lover. The song is no worse than Bob Dylan's many songs that dismiss former lovers like he did in "Don't Think Twice It's All Right."

Video: We Are Never Ever Getting Back Together by Taylor Swift at NRJ Awards

Taylor Swift has written a few put-down songs which give her lots of fan and media attention. The never-ending Taylor Swift story is who is she dating and what putdown song will be next.
There's a long tradition of that kind of song. They are probably a therapeutic creative outlet. Certainly it's better than stalking.
In Taylor Swift's song, she tells the guy off for ignoring her, picking fights and personal criticism. Sounds like the normal way relationships blow up.
"I'm really gonna miss you picking fights
And me falling for it screaming that I'm right
And you would hide away and find your peace of mind
With some indie record that's much cooler than mine
Ooh, you called me up again tonight
But ooh, this time I'm telling you, I'm telling you
We are never, ever, ever getting back together" (copyright Taylor Swift, Max Martin and Shellback.)

In "Don't Think Twice" Bob Dylan blames his lover, said to be Suze Rotolo, for the breakup. Rotolo took a breather from the relationship by travelling on a slow boat to Italy. Of course, relationships are complicated and failure is hardly a one way street.
In "Don't Think Twice It's All Right, Dylan's put-down song, the blame is all on the lover saying she "kinda wasted my precious time".

"Look out your window and I'll be gone
You're the reason I'm traveling on…
You could have done better but I don't mind
You just kinda wasted my precious time
But don't think twice, it's all right. (words copyright Bob Dylan)
Twenty years later Dylan apologized for the song saying, "I must have been a real schmuck to write that. I look back at that particular one and say, of all the songs I've written, maybe I could have left that alone." (Wikipedia)
Not surprisingly, Dylan's agents hunt down YouTube versions of him singing "Don't Think Twice" and get them deleted.

Video: Don't Think Twice, It's All Right by Bob Dylan and Eric Clapton
Maybe that's the lesson for Taylor Swift. Sometimes it pays to just move on and not profit from affairs of the heart.