The noon to 5 PM free concerts at the TD Halifax Jazz Fest are a cheap way to enjoy great music at no cost shaded from the sun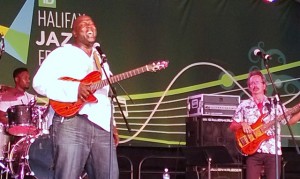 You don't have to like jazz to enjoy the free lunch-time concerts at the TD Halifax Jazz Fest.
Just bring your lunch or pick up a bite from the vendors to ease into the afternoon in a mellow or toe-tapping mood.
The free concerts are in the Salter Street parking lot tent, foot of Salter and Water Street, an easy walk from anywhere in downtown Halifax.
You will hear some amazing performers but if you don't like the set, wait 45 minutes for the artist to change. Best of all, the price is right and expectations at free are much lower.
Saturday we heard bSharp with Harvey Miller while munching on a Korea Dog (mmmm good) while my wife enjoyed a plate of home-made Chinese chicken-k-bobs (more filling). Most of the foods seem high in calories. On a diet? Bring your own or pick up a sandwich on the way from The Cabin, on Hollis at Salter.
We didn't know who was playing but what the heck? It was free music, the sun was shining and the wind blowing off the water. The crowd was friendly and there was lots of room under the shade.
Harvey Miller is an awesome baritone singer and guitarist who could switch from scat singing to country ballads, all well done. The music was pleasant and not too loud. Who wants to lose their hearing before going back to their desk?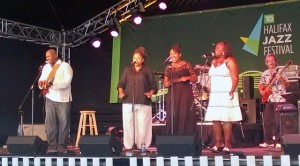 Almost near the end of his performance, Harvey Miller brought on three backup singers and they blew me away with a moving version of Bob Marley's "One Love".
It was hair-raising. I wanted to go to church or hug the guy next to me. Harvey and those gals brought tears to my eyes.
Afterwards, I just wanted the world to be a better place. OK, it's my job to start with me.
Harvey Miller is playing at Stayner's on the Halifax Waterfront Sunday July 7th if you want to hear more. "Stayner's is about to get funkified when Harvey Miller and his smokin' band hit the stage with old-school stylings of hits like Mercy, Mercy, Mercy and new-school arrangements of hot standards that will have you groovin' in your seats. And with spontaneous jam sessions taking place left, right and centre on the festival's final night, Stayner's is going to be Halifax's hottest late night hang!" $10 door. Love notes from JazzFest
If you go to the free concerts, drop a Toonie ($2 Canadian coin) in the collection bottles. The TD Jazz Fest is volunteer sponsored and it won't hurt to help out if you can.
The doors open at 11:45 AM and the last free concert starts at 3:45 PM
There are also three nights of two concerts in the tent – Monday and Tuesday night at 8 PM – and The Marquee Ballroom next Sunday at 8PM. It will be awesome to see the Marquee again.
Food available at the Salter St tent
Here are the fun food vendors at the TD Halifax Jazz Fest Salter St. tent:
Mr. Smooth – smoothies and ribs on a bun
Cheelin Restaurant – Chinese food
Food Wolf – home of those Korean Dogs
Bramoso Gourmet Pizzeria
Scotsburn Dairy – ice cream
There is a beer tent as well.
The festival runs from July 5th to 13th, 2013. Free concerts are sponsored by Long and McQuade, Galaxie.ca and the major sponsor the TD Bank. Yeah to them.