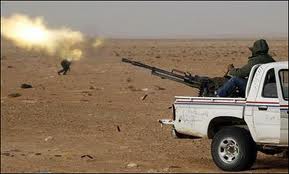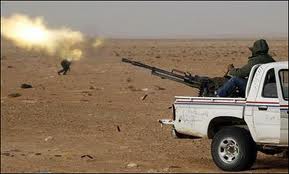 On Thursday at 3:30pm EST, the Toronto Star prints an ominous headline, "Gadhafi tells rebels his army will attack tonight". They report that Gaddafi, in a radio address, spoke to the city of Benghazi saying his forces were coming tonight and would show no mercy for the rebels.
At almost 6pm EST, the
NY Times
reiterated the same story but added that rebel leaders had doubts about loyalist forces arriving tonight as those forces had been still fighting for control of Ajdabiya, 100 miles (160 km) to the south. A report from the town said that loyalists have not yet entered the town on foot but are laying siege on three sides: the west, the north, and the south.
While all newspapers are talking of a U.N. Security Council vote about a no-fly zone this evening, the
Christian Science Monitor
says that language of the draft goes beyond just that.
Written by the US, France, and Lebanon, the paper calls for "all necessary measures short of an occupation" to be taken to protect Libyan civilians. The paper goes on to say that analysts are renaming this a "no-drive" zone where Gaddafi forces could be stopped from moving eastward. At this late stage, there would seem to be no other option if aiding the rebels is the desired goal. The NY Times wrote how the consensus of opinion in the Obama administration that a no-fly zone now would make no difference.
Will the vote go through? With mounting international concern over civilian casualties and Gaddafi's own declaration of "no mercy", there is no doubt that this vote will be deciding the fate of many who are manning the front lines in Libya.
UPDATE:
The U.N. Security Council on Thursday imposed a no-fly zone extending over all of Libya to try to halt Libyan leader Moammar Gadhafi's mounting attacks against rebel positions.
The resolution states that "all necessary means" can be used to enforce the no-fly zone. Flights to provide humanitarian aid, medicine or for evacuations are exempt.
The vote was 10 for, none against and five abstentions.
---
Euronews – Mar 17/2011
Rebel-held Misrata readies for fresh onslaught
There are conflicting reports regarding the situation in Misrata, the last big rebel stronghold in western Libya. Residents in the city, some 200 kilometres from Tripoli, say they are preparing for a new attack after the government said its forces would retake the city within hours. Loyalist forces launched an attack on Wednesday on Misrata, but rebels said they fought back and seized some tanks from the pro-Gaddafi units. A doctor at a local hospital said at least 18 people have been killed with more than 40 others wounded.
http://www.youtube.com/watch?v=C-BQQF6WiVg
Assocaited Press – Mar 17/2011
Raw Video: Amid of Heavy Attack on Ajdabiya
AP Television on Thursday obtained amateur video from Ajdabiya, the last major city between the forces of Moammar Gadhafi and Benghazi 100 miles (161 kilometres) to the north, showing what appears to be a heavy and sustained attack on the city.
http://www.youtube.com/watch?v=Mye_areTZKs
PBS News Hours – Mar 16/2011
In Libya, 'Everyone Is Frightened' as Gadhafi's Forces Drive Toward Benghazi
http://www.youtube.com/watch?v=M4HUn5SZzCE
Click
HERE
to read more from William Belle
Article viewed at: Oye! Times at www.oyetimes.com