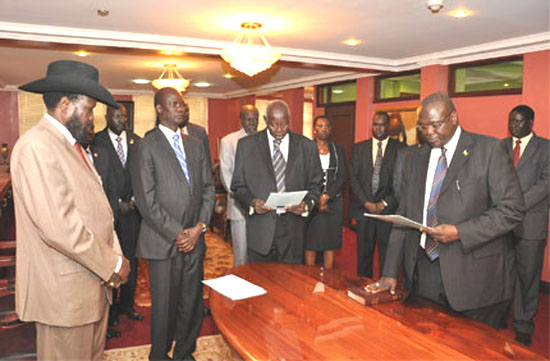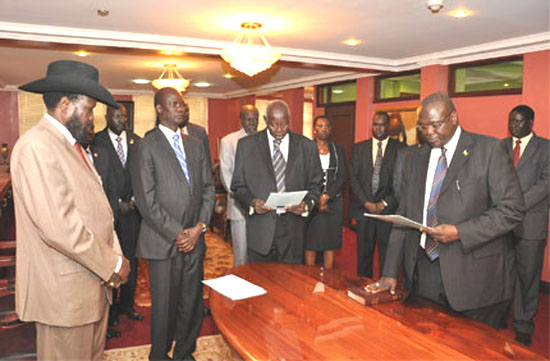 President of the Republic of South Sudan General Salva Kiir Mayardit on Sunday issued three Presidential Decrees regarding the new Government of South Sudan and formed a caretaker government that reinstated most officials in similar positions.
The first decree relieved Dr. Riek Machar Teny of his position as Vice President of the Government of Southern Sudan while the second one appointed him as the Vice President of the Republic of South Sudan.
Following several decrees issued on Sunday by president Kiir, yesterday the Vice President of the Republic of South Sudan, H.E. Dr. Riek Machar Teny took the oath of office.
Dr. Machar was sworn in by the President of the Supreme Court of South Sudan Justice John Wol Makec at the Office of the President in the presence of H.E. Salva Kiir Mayardit, President of the Republic of South Sudan.
Thereafter, the caretaker Ministers also took oath of office at the Cabinet Room in Juba.
On Sunday the President also issued Decree 3 for the continuation of service of Presidential Advisors in their positions as Advisors to the President of the Republic of South Sudan pending final reorganization of the Government of the Republic of South Sudan.
The Advisors are Lual Diing Wuol -Advisor for Political Affairs; John Koung Nyoun -Advisor for Security Affairs; Madam Rebekah Nyandeng De Mabior -Advisor on Gender and Human Rights; Telar Riing Deng -Advisor on Legal Affairs; Alfred Lodu Gore -Advisor on Diplomatic Affairs; Tor Deng Mawein -Advisor on Decentralization and Intergovernmental Linkages; Salva Mathok Gengdit -Advisor on Military Affairs; Cornelius Befo -Advisor on Monitoring and Integrity in Governance; Col. Sidig El Manas Basil -on Southern Blue Nile; Chief Kong Kong Bol -Advisor on Inter Communal Peace; Joseph Lagu Yanga -Special Advisor; Dr.Martin Elia Lomuro -Advisor on Public Affairs; General Kennedy Gen. Ngery -Inter communal Peace and Traditional Leadership Affairs; Chief Tem Kok Ngor -Advisor on Inter border conflict and Traditional Leadership Affairs; Dr. Joseph Montueyl Wejang -Advisor on Social Services; Rev. Tijowk Hadher Agwet -Advisor on Religious Affairs; Isaiah Kulang Mabor -Special Advisor for Wild Life and Tourism and Gissmallah Abdallah Rasas -Special Advisor to The President.
The President also issued Presidential Decree 4 relieving Ministers of the Government of Southern Sudan. The fifth Decree saw the appointment of Caretaker National Ministers of the Republic of South Sudan.
The Ministers are: Kosti Manubi Minister for Cabinet Affairs; Pagan Amum Okiech Peace and CPA Implementation; Nhial Deng Nhial Minster of Defense; Deng Alor Kuol Foreign Affairs; Dr. Cirino Hetieng Ofuho Office of the President; John Luk Jok Minister of Justice; Gier Choung Aloung Interior; Michael Makue Loweth Parliamentary Affairs; David Deng Athorbie Finance and Economic Planning; Oyay Deng Ajak Investment; Awut Deng Acuil Labor and Public Service; Dr. Barnaba Marial Benjamin Information; Dr. Luka Tombekana Monoja Health; Dr. Ann Itto Leonardo Agriculture; Anthony Lino Makana Roads and Transport; Dr. Michael Milli Husein General Education; Stephen Dheiu Dau Commerce and Industry; Isaac Awan Maper Environment; Jemma Nunu Kumba Housing and Physical Planning; Madut Biar Yel Communication and Postal Services; Garang Diing Akoung Energy and Mining; Agnes Kwaje Lasuba Gender; Child and Social Welfare; James Kok Ruea Humanitarian Affairs and Disaster Managemen; Paul Mayom Akech Irrigation and Water Resources; Joseph Ukel Abango Higher Education, Science and Technology; Abdallah Albert Wildlife Conservation and Tourism; Nyaluk T. Gatluak Animal Resources and Fisheries; Mary Jarvis Yak Human Resource Development; Makuac Teny Youk Youth, Sports and Recreation; Gabriel Changson Chang; Culture and Heritage and Dr. Pricilla Nyanyang, Minister without Portfolio.
According to the Presidential Decree, the National Caretaker Ministers shall perform the usual Ministerial functions and duties in their Ministries. The Ministers shall not take any major policy decision or enter into any major contractual obligation while discharging their responsibilities as caretakers.
The President issued Decree 6 for the continuation of service of the Chairpersons, Deputy Chairpersons and Members of Commissions and Independent Institutions. They are to continue to serve in their current positions in the Republic of South Sudan pending reorganization of The Government of The Republic of South Sudan.
All the decrees are effective from Sunday 10th July 2011.
Three Ministries have changed names. The Ministry of SPLA and War Veterans Affairs will now be known as the Ministry of Defense, Regional Cooperation as Foreign Affairs while the Ministry of Legal Affairs and Constitutional Development has been renamed the Ministry of Justice. No new Ministries have been created and no new faces have made their way into the first government of the brand new African country.
Additional information: www.goss.org
Article viewed at: Oye! Times at www.oyetimes.com