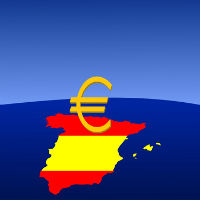 Note that Spain's unemployment is much higher than Italy's (8.1 percent), Ireland's (14 percent) or that of Greece (15 percent). Unemployment is definitely not projected to decrease by much during 2012 either with a forecast decline to only 20.2 percent.
Here is another chart from the ScotiaCapital Global Real Estate Report comparing the inflation and deflation of the housing price bubble in Spain, Italy and France showing that Spain's housing bubble was the most extreme of the three nations:
On to Spain's debt picture.
The IMF also notes that unemployment is stubbornly high and is well above the Eurozone average. They are concerned that high unemployment could create domestic economic headwinds that will result in additional downward pressure on the already decimated housing market and slower banking sector balance sheet repairs that were damaged by the decline in the housing market. As well, the IMF notes that as financial conditions in the Eurozone deteriorate, a drop in sovereign bond prices as a result of the perceived increase in the risk of default could push interest rates higher, affecting the ability of Spain to control the decline in its deficits.