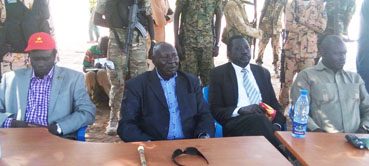 This article was last updated on April 16, 2022
The Governors of Western Lakes, Abraham Makoi and Governor of Gok State, Madhang Majok Meen during a visit to Makor displacement Area at Bhargel County last Thursday urged communities residing in the area to coexist peacefully and shun conflicts between themselves.
RUMBEK, 10, January 2016 [Gurtong] – This comes after the two Governors last week on Tuesday agreed to conduct a peace rally over the disputed territory of Bhargel /Ngap Counties.
Tension between communities of the two States of Western Lakes and Ngok State over the disputed area has since risen as both sides claim that the area belongs to them.
Fighting in the disputed area of Bhargel, nicknamed as Ngap has left many people dead and left many others displaced and farms destroyed.
Speaking to the internally displaced community of Bhargel in Makor displacement area at Bhargel County, Abraham Makoi appealed to the people to remain calm as an amicable solution will be provided soon by both the national and States committees tasked to resolve the dispute over land in the area.
The Governor of Gok State, Madhang Majok Meen on his part accused the Member of Parliament in Rumbek, John Aremic and his brother Bol Aremic, the Chief of Bhargel to be behind the conflict of land in the area saying the two brothers were in support of join Western Lakes and Gok States.
The two Governors urged both communities to organize themselves to welcome the visiting fact findings committee from the Council of States in Juba which is expected to visit the States very soon.
Last week, the Council of state formed a committee led by the Chief Whip, Faustino Atem Gualdit to visit the disputed areas.
You can publish this article on your website as long as you provide a link back to this page.