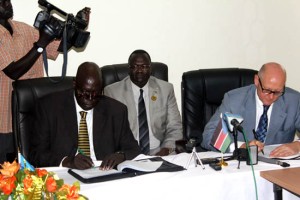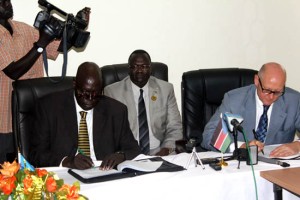 The Swiss and South Sudan governments have signed a pact to strengthen traditional leadership in the new country.
The Director General for Local Government and Traditional Authorities of the Local Government Del Rumdit told the press during the signing of the Memorandum of Understanding yesterday that the MoU focuses on two areas.
"The MoU focuses on providing support for establishing legal frameworks for Councils of Traditional Authority Leaders (COTALs) in each of the ten states of South Sudan and providing support to one COTAL at the national level. The establishment and support of the COTALs will enable the COTALs to perform their duties for the newly born Republic of South Sudan", he said.
The Chairman of the Local Government Board David Koak said the MoU is a two year agreement that stands chance of renewal.
"The COTALs shall be a forum for dialogue and a consultative body at the national and state level on matters regarding customs, culture, peace, co-existence and welfare of communities it represents", said Koak.
The signing of the document by Koak and the Swiss Ambassador to South Sudan Michael Winzap was witnessed by the South Sudanese Vice President Dr Riek Machar.
Ambassador Michael reiterated Swiss commitment and cooperation to boost the COTALs.
Dr Machar commended the endless efforts of the Swiss in supporting the funtionining of the COTALs since the civil war.
"During the war all systems of governments were destroyed and organisation of the civil population was a challenge. However, under the traditional leadership, South Sudanese were able to get organized under their chiefs. The role of traditional leadership in South Sudan at the critical moment for service delivery is demandable.
Click HERE to read more.