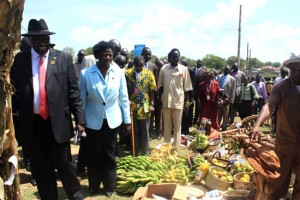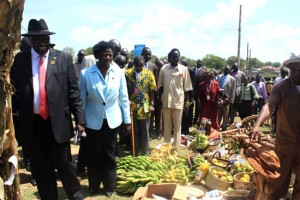 South Sudan today witnessed the first ever agricultural trade expo since becoming a nation.
The Ministry of Agriculture in collaboration with development partners launched the trade fair Wednesday in Juba with an aim of showcasing agricultural potential of the world's newest state.
The fair was organised by Project Farm and funded by the United States Agency for International Development (USAID) and seeks to enlighten farmers, especially small scale farmers in South Sudan.
Farmers from different parts of the ten states of South Sudan converged at the venue to showcase their diverse produce.
Other development partners were also demonstrating technical and agricultural inputs such as seeds, drugs and mechanized systems.
Among the crops cultivated in South Sudan were on show including cassava, maize, potatoes, groundnuts, pumpkin, sorghum, yams and bananas among others.
Attendees at the inaugural trade fair called for enhanced collaborative efforts to boost the agricultural sector.
The USAID Deputy Mission Director to South Sudan Peter Natiello pledged his organisation's readiness to support agricultural development in South Sudan.
"USAID wants to help address food insecurity as well as lack of access to markets and poor infrastructure among other economic challenges in South Sudan. We are working with the national ministry of agriculture as well as state ministries to boost agricultural production in South Sudan", said Natiello.
The South Sudanese Agriculture Minister Dr Betty Achan said the government is currently focusing on enhancing agricultural production to boost food production.
She urged the government to address unemployment of the youth by championing for agriculture as the main source for employment.
"The government should also support the technical capacity of the small agricultural firms through provision of good seeds, technical advice and farm equipment. We welcome investors to support the sector and implement strategic plans'', said Dr Achan.
South Sudan's Vice President Dr Riek Machar called for concerted efforts to address challenges facing the agricultural sector in the infant country.
"The efforts should involve the states where service delivery is best felt. If the states are not involved we will not attain much in developing this sector", he said.
Food insecurity remains a big challenge in South Sudan with about 1.3million South Sudanese facing acute shortage of food.
Click HERE to read more.