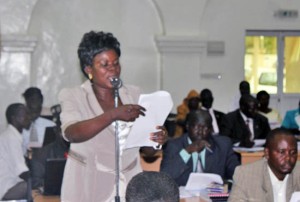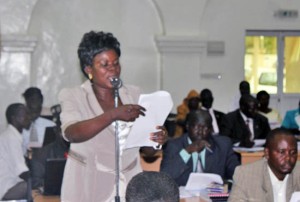 The Central Equatoria State Legislative Assembly has adapted the state draft constitution.
The move yesterday by the state legislators was a culmination of debate on different articles in the state constitution.
The draft was presented at its second reading by an ad-hoc committee that examined the draft to assess its conformity with the South Sudan Transitional Constitution.
The session was however marked by sharp criticisms from a section of legislators who
Accused the ad-hoc committee of "not presenting comprehensive observations after spending a week in its assignment".
The committee defended itself, attributing the slow pace to the short time allocated for the work.
Main issues of concern that drew interactive debates involved "marriageable age" which was not defined by the national transitional constitution.
Another issue was the definition of women's inheritance of their husband's property, where many MPs raised concern that women should not only be entitled to inherit their husband's property alone but should also be entitled to their parents' estates.
It was, however, clarified that that provision cannot be applicable as it does not conform to the national constitution.
There was heated debate on the Land Survey Authority, a new provision in the state constitution, where MPs called for granting of maximum powers to the body so as to address the numerous land issues across the state, Juba in particular.
The members also recommended that wide consultations be carried out on division of powers between the National Legislative Assembly and the State parliament.