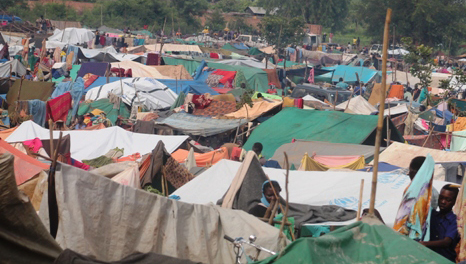 The International Organization for Migration (IOM) in Wau said it has started relocating more than 6,000 Internal Displaced Persons sheltering at the UN PoC in Wau due to overcrowding condition.
WAU, 23 February 2017 [Gurtong] – The new allocated site is just few meters away from the main UN Protection site established last year in June 2017 after fighting broke out in Wau town.
According to IOM communication's officer, Ashley McLaughlin the move aims to improve living conditions for internally displaced persons (IDPs) at the crowded Protection of Civilians (PoC) site in Wau, South Sudan.
Hosting more than 30,000 IDPs, the Wau PoC site adjacent to the UN peacekeeping base is the most congested displacement camp in the country.
"Camp management conducted a relocation exercise from 26 January to 20 February, helping more than 6,000 IDPs move from the most congested areas into over 800 units in 176 communal shelters constructed by IOM teams. Households continue to access common services within the site, such as clinics managed by IOM, International Medical Corps and Médecins Sans Frontières," said IOM.
Beginning in late 2016, IOM, as camp manager, began developing an extension area to ease congestion and enable families to move away from shelters that were either close to latrines or teetering near drainage ditches. Teams cleared and levelled 40,000m2 of land adjacent to the existing site, installed drainage and water points and constructed roads and pedestrian crossings, in order to facilitate the move.
"The extension is also improving conditions for those who remain in the old areas of the site," explains Kevin Merkelz, IOM Camp Management Officer for the Wau site. "We were able to open up wide avenues to improve safety and make space for dozens of badly needed showers and latrines. This also allowed us to empty six classrooms that had been occupied since the start of the crisis so that they could be used once again for educating the children displaced by the conflict."