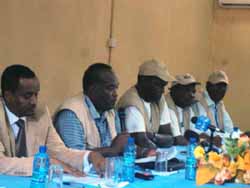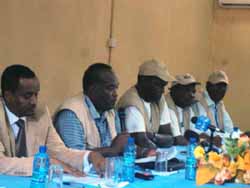 The Inter-governmental Authority on Development (IGAD) has lauded the conduct of the Southern Sudan referendum process, saying it is fair, free and transparent.
The head of IGAD's observation mission for the referendum Yusuf Nzibo told the press in Juba that the entire process meets international standards.
"Our preliminary assessment is that the referendum process was free, fair and credible. This is a major milestone in promoting peace and democratic transformation of South Sudan", remarked Nzibo.
"The Mission observed that the SSRC despite the magnitude of work and the short period that was availed between the conclusion of the voter registration and the referendum date, it made all efforts to ensure the process proceeds as planned", he added.
He added that IGAD observed that the legal frame work provided a conducive environment for the conduct of the referendum.
The Director for Peace and Security at IGAD Yufmalis Okubo affirmed that IGAD will respect the decision taken by the people of South Sudan.
He said the successful conduct of the referendum by the SSRC should be emulated by other countries in Africa and the rest of the world.
"South Sudan has shown to the world that Africa has a capacity to conduct peaceful elections", Okubo said.
The body also called for peaceful announcement of the results.
IGAD deployed 40 observers to all parts of Sudan to monitor the entire conduct of the process.