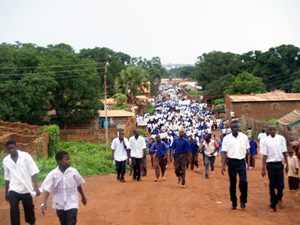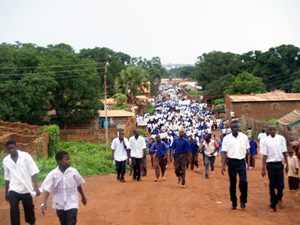 Thousands of Western Bahr el Ghazal State residents poured onto the streets of the state capital Wau yesterday following the announcement of the preliminary results of the recently-concluded Southern Sudan Referendum.
The euphoric residents sang and danced from street to street celebrating the announcement by the Southern Sudan Referendum Commission that 99.6 percent of South Sudanese had voted for the separation of the semi-autonomous region.
"We have from today honoured our freedom fighters as we have waited for this day for too long", said an unidentified middle-aged man from a top a pick-up vehicle.
The residents joined their compatriots across South Sudan even as the State Governor Rizik Zackaria Hassan called for calm until the final results of the Southern Sudan Referendum results are announced on February 14.
Outside a shop, a banner with the inscription: The Republic of South Sudan caught the attention of many as it clearly emphasised the importance of the announcement.
"We are very happy and proud following the preliminary announcement today which shows that we have separated from the Arabs who have been sitting on the Southerners for a long time", said Cirillo Albino who spent the day celebrating with his family at his home in Wau.
Meanwhile, residents of Lakes State received news of the results with joy following days of anxiety over the fate of the semi-autonomous region.
The State Governor Chol Tong Mayay urged the state residents to stay calm until the final results are released in Khartoum.
While welcoming the announcement of the preliminary results, Mayay said the outcome fulfilled the wishes of South Sudanese who have suffered greatly at the hands of the Khartoum government.
(Additional reporting by Manyang Mayom)