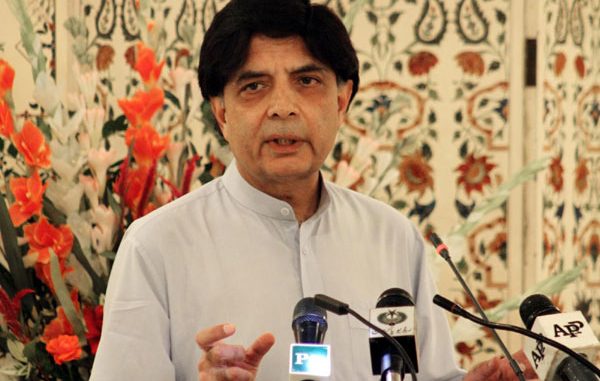 Interior Minister of Pakistan, Chaudhry Nisar Ali Khan, mentioned in a comprehensive press conference at NADRA HQ on Friday that the controversial story published by the Dawn newspaper was not a security leak but instead fabricated news. According to Nisar, he has now asked the newspaper's editor to call the story's writer, Cyril Almeida, to come back from the U.S. since the investigative committee has decided to hear the reporter's position in the inquiry.
Addressing the media, the interior minister criticized the Chairman of Pakistan People's Party, Bilawal Bhutto Zardari, and called him a "non-serious kid" who was not aware of the ABC of politics but insulted people of his father's age, calling them "chacha." In his remarks, Nisar explained that "Bilawal doesn't know how to speak either in Sindhi or Urdu and makes speeches written in Roman Urdu to amuse his mentors." He questioned how is it possible that a 27-year-old boy was leading a major political party when he could not even express his views efficiently in the language of his followers. Refraining from responding further to PPP's growing criticism of the government, Nisar vowed to soon hold a separate a press conference, particularly on the PPP.
Meanwhile upon an inquiry about shelling at the caravan of the KP Chief Minister, Pervez Khattak, when he was entering Islamabad Nov 1
st
, the minister reiterated that people visiting Islamabad for sit-in and protest are welcome but legal action would be taken against all those intending to visit Islamabad to lock the capital city down through chaos and violence.