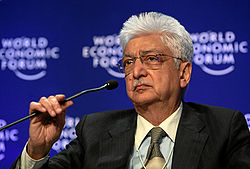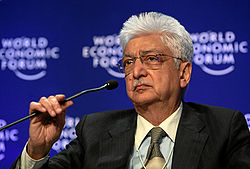 In an aggressive backlash the Congress hit back at Azim Premji after the IT czar slammed the UPA for absence of decision making, mentionaning Premji should mention specific area of concern.
Congress Spokesperson Manish Tewari reacted to Premji's charge, Climing there's no truth in Azim Premji's charge.
"There is absolutely no absence of decision making in the government. Government has been taking decision in national interest whether it is in international arena or it is domestic affairs, whether it concerns the economic policy of the country or it concern social program, Tewari said.
He added, "UPA government is extremity pro-activity. If Azim Premji does have any specific area of concern he should flag it for the concern of the government."
Azim Premji slammed 'complete absence of decision making' in Government and warned that growth would suffer if prompt corrective measures are not taken.
Apparently referring to scams in media spotlight, he pointed to "governance issues which are hitting headlines, hitting a little less today they were hitting a month back". "…complete absence of decision-making among leaders in Government", Premji said, adding, if prompt corrective action is not taken, there is going to be a set-back to growth.
"You must appreciate how serious it is", he said. A group of prominent personalities, including Premji, Keshub Mahindra and Deepak Parekh, has in a letter to the nation's leaders earlier this month expressed concern over a series of scams leading to 'governance deficit', but said that national challenges like fighting corruption cannot be solved by urban protests and posturing.
Article Viewed on Oye! Times @ www.oyetimes.com