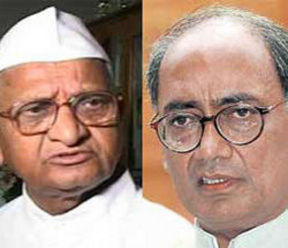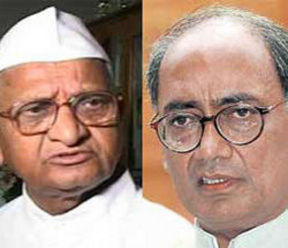 Continuing his outburst against Team Anna, Digvijay Singh who is the General Secretary of Congress has poked fun at Crusader Anna Hazare and his close alleys over the matter of donations collected during the Ramlila Maidan agitation.
While talking about team Anna's decision to return Rs 40 Lakh, which were donated to them by unknown sources, Digvijay tweeted "Super Team Anna to do an impossible Act. Return Rs 40 Lakhs to unknown Donors. Only the Super Heroes can collect from unknown and return them. For Anna's Super Team. Na Khata na Bahi. Jo Kejriwal kahe woh sahi!"
Anna Hazare who is on a "maun Vrat" (vow of silence) previously had rubbished allegations of the any covert financial collection during his 13-day fast at Ramlila Maidan to press for a stronger Lokpal Bill.
Arvind Kejriwal read a statement issued by Anna Hazare which said" People are being misled about the funds collected and the expenses of the agitation… Of the funds we got, Rs 40 lakh came from unknown sources, through a bank. Instead of keeping all this money, we have directed that it be returned. We stopped collecting funds at Ramlila after a few days. Later, we even stopped receiving funds through cheques and banks. All this shows the movement is not working for money. We have undertaken a special audit… and will put its report on the website. If anyone has doubts, any government agency can investigate (finances of the agitation),"
Article Viewed on Oye! Times @ www.oyetimes.com