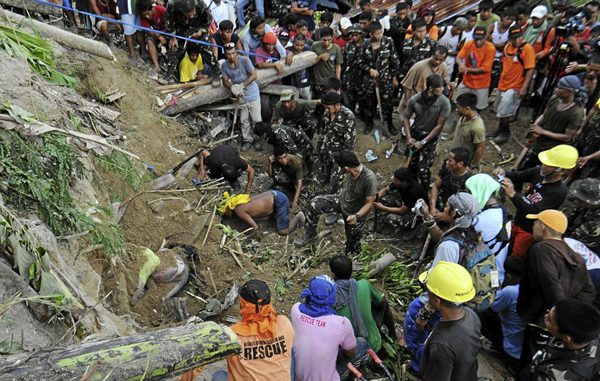 Search and rescue teams in Philippines working on the 7
th
February earthquake debris hear voices from under the rubble. Rescue teams have dedicated all their resources towards finding the source of the voices and successfully taking out the survivors from the rubble.
It is a miracle to hear human voice from debris after 24 hours of the quake which has killed at least 48 and about a hundred are still missing. The quake hitting central Philippines with a magnitude of 6.9 smashed several houses. It also triggered land sliding causing the death toll to magnify.
According to the army officer heading the rescue and search operation, a major chunk of the missing people are reported from within the areas of La Libertad town and Guihulngan City in the province of Negros Oriental. The land sliding leveled about a hundred houses from two villages.
The president of Philippines, Benigno Aquino spent his 52nd birthday in the province of Negros Oriental which was hit by the quake and is facing destruction at a large scale. The president spent the day there showing support and offering a helping hand to the victims and praying for the dead.
The president met with the mayor of Guihulngan city and discussed the crisis situation the city was facing. He announced a donation of P3.3 million for the livelihood program of the city and requested other government officers to open their food stalls in the affected region to ensure food and living supplies to the effected-fellows.
Article viewed on Oye! Times at www.oyetimes.com