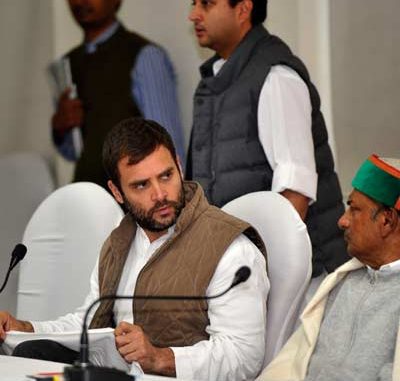 "I was thinking of working as a rickshaw puller for a day to understand your problems," said Rahul Gandhi this Saturday as he tried to increase his vote-bank by attracting voters belonging to the group of rickshaw drivers and rickshaw pullers. He further added that the Congress vows to improve their living conditions.

"I thank you all. You have sacrificed your day's earnings for coming here to listen to me. I assure you all, that I would do everything possible to regain your dignity, to improve your lives and save you all from all sorts of difficulties that you have to go through each and everyday," he said during his speech at the Cantonment Railway Station in Varanasi. "All the schemes run by the Centre are visible in Andhra Pradesh, Kerala, Maharashtra…primary schools are functioning better in these states but they fail in U.P…Centre's schemes don't reach the poor in U.P.," he said as the listeners informed Gandhi of their grievances.

While on his trip to Uttar Pradesh Gandhi also paid a visit to Sarai Shekh village of Chinhat where he said that women empowerment was an extremely important part of a developed society and a strong country. "Women would have to identify their strength and become self-reliant to improve the future of their families and the country," Gandhi said explaining how thousands of women contribute to their family income thru self-help groups. A public rally had also been scheduled by the Congress at Mirzapur but the overnight rains leading to extreme water logging at the rally venue forced its cancellation.