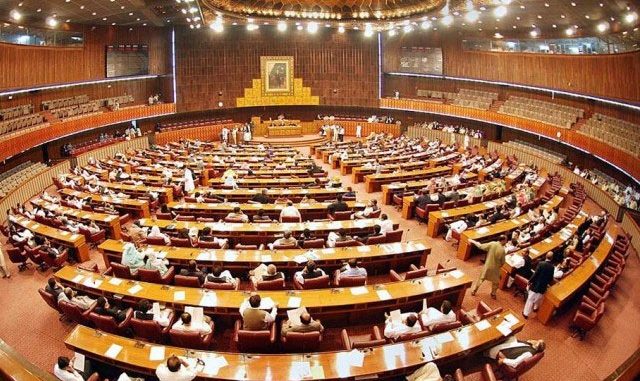 The government this Wednesday passed a resolution in the National Assembly to extend the Pakistan Protection Ordinance (PPO) for a further period of 120 days whereas the opposition party members and members of the Jamiat Ulema-i-Islam-Fazl (JUI-F) protested against the government's decision by walking out from the Lower House of the Parliament.

Zahid Hamid, who was tasked by Prime Minister Nawaz Sharif to start a consultation process to finalize the changes needed to make the draft bill palatable, tried to calm the opposition by contending the PPO was necessary for protection of the country and told them that necessary amendments that were made in it. "We will even incorporate more amendments of the opposition for its passage as bill unanimously" Zahid offered The opposition leader Khurshid Shah added that any bill having the consent of the all the nation would be allowed to sail through the house and added that said piece of legislation was a direct attack on the fundamental rights of the citizens.

Pakistan Tehreek-i-Insaf's (PTI) Shah Mehmood Qureshi terming the bill as a 'black law' said that it had been rejected by the nation. "Government should try to evolve a consensus rather than repeating the scenes of last session when a similar kind of legislation created the ugly scenes in the house." Even on the 7th of April, the Protection of Pakistan Bill was approved in the National Assembly, amid much uproar and protests.