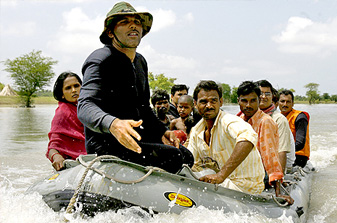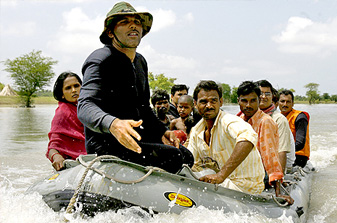 Navy personnel on Sunday joined the army columns in saving the lives of thousands of people still trapped in the swirling waters of the Kosi as the flood situation in Supaul, Araria, Madhepura and Saharsa worsened on the 14th day of the catastrophe.
With this, all the three wings of the defence forces — army, navy and air force — have joined one of the biggest rescue and relief operations in Bihar.
"Two columns of the army have been sent to Triveniganj, one of the worst affected blocks of Supaul," said Additional Commissioner, Disaster Management Department, Pratyaya Amrit.
He said the state government had chalked out a strategic plan to evacuate people from the worst hit blocks of Triveniganj, Chhatapur (Supaul), Murliganj, Udakishunganj, Bihariganj and Gualpara in Madhepura with the help of army and navy teams.
The state government has requested for 25 more columns of the army for evacuating people from the marooned areas.
"So far, 15 columns of the army and three columns of the navy have arrived. This is in addition to 4 columns of the army already carrying out the relief operation," he said. Besides, six IAF choppers are already engaged in air dropping of food packets. Till Sunday, 4.67 lakh people have been evacuated to safer places and moved to 172 relief camps operating in the affected districts, he claimed.
Home ministry officials in Delhi, who are part of the National Crisis Management Committee headed by Cabinet Secretary K.M. Chandrashekhar, said 243 boats had been deployed for rescue operations so far.
Also, a special train has been sent on Sunday containing 4 lakh bottles of potable water. But there was recognition that the tragedy required the government to step up efforts. About 18 tonnes of plastic sheets have been sent, but they would be able to accommodate just 3,000 families.
Meanwhile, Madhepura continued to be submerged under six-feet water. Floodwaters have engulfed some more areas. However, the Disaster Management Department sources said that the water has receded by 6 inches in the town on Sunday.