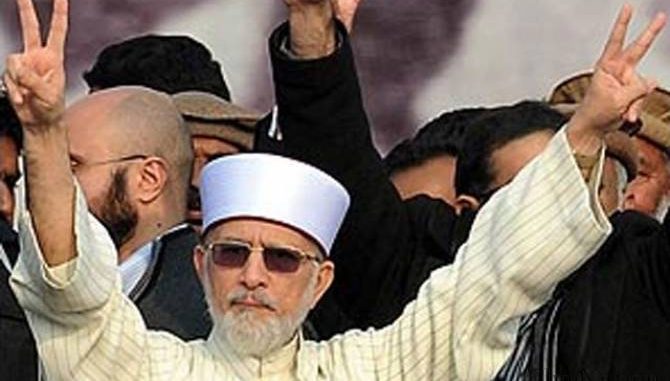 Today the chief of Pakistan Awami Tehreek (PAT), Dr. Tahirul Qadri went to the city of Hazara Haripur where there was a large crowd gathered to welcome their leader. The chairman of PAT said that I have not ended the 'dharna' but spread it. He said he is confident that he has achieved his goals in the 70 day sit-in that was held in Islamabad.

According to Express Tribune, Qadri said that he was firm in his belief that the 70-day sit-in Islamabad had awakened the nation. "Our demands will very soon be met. If the government does not fulfill our demands, it doesn't matter. The time is not far when our demands will be fulfilled," it quoted Qadri. The chief thanked the media, both print and electronic media and also thanked the crowd for attending his Haripur rally without a formal announcement. He also praised the efforts of his supporters in the journey towards 'inqilab' or revolution in the country. "The government will eventually have to go and this system will also have to go. Pakistan will then get the vision which Quaid-e-Azam promised us."

Qadri also commented on the 'so-called democracy' that is being practiced in Pakistan. "What kind of a democracy is this, where the chief minister and prime minister are accused of killing people and continue to keep their jobs. I curse such a democracy," said Qadri. The PAT chief is scheduled to hold sit-ins in Bhakkar and other cities of the country over the next few weeks.