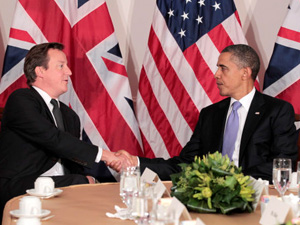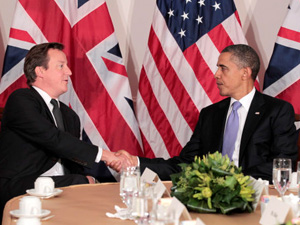 David Cameron and Barack Obama have together started admiring the relationship between Britain and the United States as both of the states retain a 'special and unique relationship', ahead of the U.K. prime minister's state visit to Washington.
According to a joint article from the Washington post, both leaders have warmly stated, their partnership is like an 'essential asset' to them and 'the world counts on our alliance'.
The three day trip will include the discussion on "the next phase of the transition" in Afghanistan. Besides, tensions over Iran and the violence in Syria will also be high on the agenda planned for discussing the international crucial issues.
Mr. Cameron made his first official visit to the U.S. after being elected as a prime minister in July 2010. The upcoming meeting is planned ahead of Nato and G8 summits.
The visit will also be treated as a celebration of the close links between the U.S. and Britain, with a star-studded state dinner at the White House, a trip on Air Force One for the two leaders to watch a basketball game in Ohio, and public appearances for Samantha Cameron with First Lady Michelle Obama. Mr. Cameron is the first ever foreign leader to be invited by Mr. Obama to accompany him on his official jet flight.
The two leaders have also shown their willingness to discuss economic and diplomatic measures to "tighten the noose" on the regime of Syrian dictator, Bashar Assad in the hope of forcibly pressurizing him to end violence against opponents and withdraw from power. International aid is also expected to be discussed during the visit.
Article viewed on Oye! Times at www.oyetimes.com.