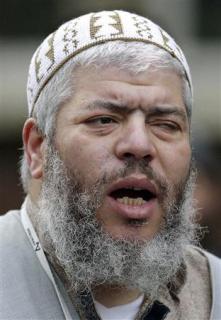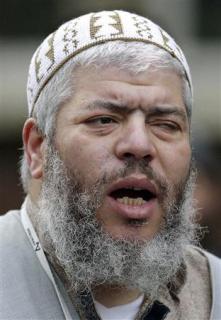 Abu Hamza, the radical cleric and the four other suspects have arrived in the United States early on Saturday to face terror charges later in U.S. court, after he was extradited from Britain after an eight year legal process.
He was flown late on Friday to the United States with the other suspects also wanted on U.S. terrorism charges. The U.S. attorney office in New York has said Hamza was expected to face a judge in New York within 24 hours after civilian U.S. jets flew him to America hours after he lost his long legal battle to stay in Britain.
He arrived at Westchester County Airport, New York State, at about 2.30 a.m. local time, and was prisoned next to the federal courthouse in lower Manhattan.
Hamza was expected to be briefly presented before U.S. Magistrate Judge, Frank Maas on Saturday before appearing at a longer court session on Tuesday where charges would be read to him.
Abu Hamza, 54, is accused to be a fiery anti-Western speaker and said to have inspired some of the world's most high-profile militants including Zacarias Moussaoui, one of the accused September 11, 2001 conspirators. Hamza used to preach at the Finsbury Park Mosque in north London, but was later jailed in Britain for inciting murder and racial hatred.
Hamza was indicted by a federal grand jury in Manhattan in April 2004 and was accused of involvement in a 1998 hostage-taking in Yemen that resulted in the deaths of four hostages – three Britons and one Australian. He was also accused of providing material support to al Qaeda by trying to set up a training camp for fighters in Oregon in the United States and of trying to organize support for the Taliban in Afghanistan.
If convicted, Hamza could face up life sentence to prison.
Article viewed on oye! Times at www.oyetimes.com.