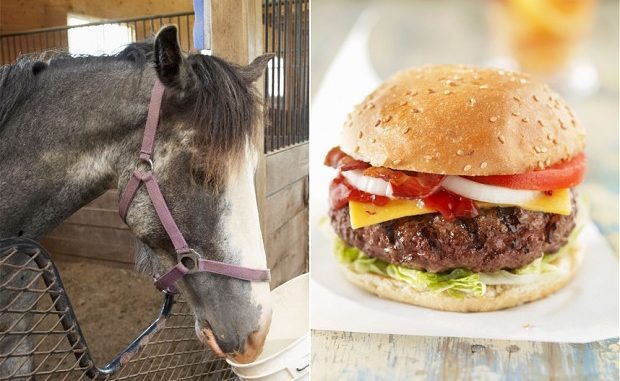 This article was last updated on April 16, 2022

A food safety watchdog investigation has found 29 percent of horsemeat in what have been sold as the Tesco value Beef burger.
Two of the U.K. burger sale points and three Irish supermarkets were found to contain traces of horse meat after the tests conducted on 27 supermarket beef products, with ten of them containing horse DNA and the vast majority, 23, containing pig DNA.
The leading retail groups, Tesco and Iceland in the U.K., and Lidl, Aldi, Dunnes Stores in Ireland, have confirmed the food safety chiefs regarding the removal of all associated products from the shelves of their outlets. Group technical director at Tesco, Tim Smith has said: "We are working with the authorities in Ireland and the U.K., and with the supplier concerned, to urgently understand how this has happened and how to ensure it does not happen again."
The Food Safety Authority of Ireland (FSAI) found the traces of horse, and in some cases pig DNA in a number of beef burger, beef ready-meals and salami products available from some of the U.K. and Ireland's leading supermarkets.
The production of these contaminated products has been processed into the two Ireland plants – Liffey Meats and Silvercrest Foods – and the North Yorkshire based Dalepak Hambleton plant in the U.K.
Chief executive of the FSAI, Professor Alan Reilly has pointed out the association of no health risk with the products but also no reasonable explanation for horse meat to be found as he said: "Whilst there is a plausible explanation for the presence of pig DNA in these products due to the fact that meat from different animals is processed in the same meat plants, there is no clear explanation at this time for the presence of horse DNA in products emanating from meat plants that do not use horse meat in their production process."
Article viewed on Oye! Times at www.oyetimes.com.
You can publish this article on your website as long as you provide a link back to this page.