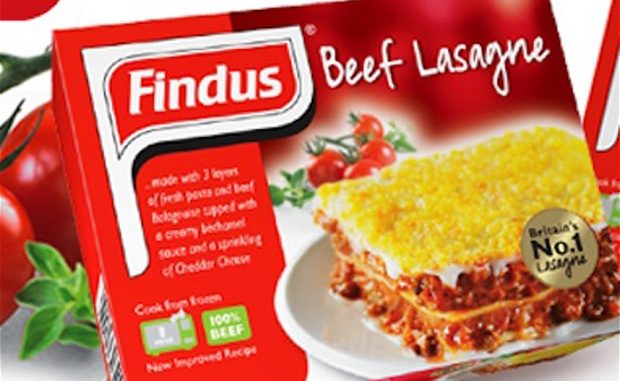 Britain's Food Standards Agency (FSA) have advised the public to avoid eating Findus beef lasagne products manufactured by supplier Comigel in France after tests found the product containedfrom 60 percent up to 100 percent horsemeat.
Chief executive of the FSA, Catherine Brown has called the situation to be totally "appalling" and told it to be indicative of involving "criminal and fraudulent activity".
She has said: "We are demanding that food businesses conduct authenticity tests on all beef products, such as beef burgers, meatballs and lasagne, and provide the results to the FSA. The tests will be for the presence of significant levels of horse meat."
Findus, one of the most famous frozen foods' brand has withdrawn 180,000 lasagnes from sale after conducting tests on meals from a French supplier that had raised concerns. The frozen food company has also made a public apology and offered refunds to any customer who bought the affected lasagne products. Retail giant Tesco and discount chain Aldi have also removed a range of ready meals produced by Comigel over doubts of containing contaminated meat too.
But the agency confirmed tests have been ordered on the lasagne for the veterinary drug phenylbutazone or "bute", which is banned from entering the food chain.
The FSA added: "People who have bought any Findus beef lasagne products are advised not to eat them and return them to the shop they bought them from."
A Findus UK spokesman has told the issue to be a "very sensitive one for consumers" and has assured to take immediate food safety measures to resolve this supply chain issue.
Findus UK withdrew its 320g, 360g and 500g lasagne meals from supermarket shelves as a precautionary measure earlier this week.
It revelation came after Comigel alerted Findus and Aldi earlier this week that some of its products "do not conform to specification".
It had cautioned them to remove Findus beef lasagne and Aldi's Today's Special frozen beef lasagne and Today's Special frozen spaghetti bolognese.
Tesco also decided to withdraw its Everyday Value spaghetti bolognese, which is also manufactured at same site.
The Environment Secretary, Owen Patterson has told the latest revelations to be "completely unacceptable".
Article viewed on Oye! Times at www.oyetimes.com.