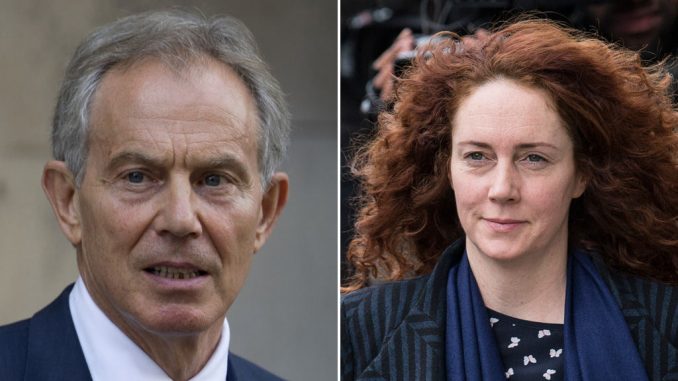 Former Prime Minister Tony Blair had advised the former chief executive of News International, Rebekah Brooks on handling the phone-hacking scandal in July 2011, the Old Bailey heard on Wednesday.
An email from Mrs. Brooks to James Murdoch dated July 11th 2011 with the details of advice given to her by Tony Blair at the height of the hacking scandal, has been shown as an evidence to the court.
Mrs. Brooks, 45, faces five charges involving conspiring to hack phones, conspiracy to commit misconduct in public office and conspiring to pervert the course of justice, all of which she denies. As the defence cases open, she and the other six defendants – including former editor of the News of the World, Andy Coulson – will be provided with the opportunity to defend their cases during the trial in order to fight the accusations against them.
The email, which was in bullet points, tells that Mrs. Brooks spoke to the former Prime Minister for an hour about the crisis engulfing News International – the day after the closure of the News of The World and less than a week before Mrs. Brooks' arrest on 17 July 2011.
Mr. Bair had suggested forming "an independent unit that has an outside junior counsel, Ken Macdonald, a great and good type, a serious forensic criminal barrister, internal counsel, proper fact checkers etc in it. Get them to investigate and publish a Hutton style report." [Lord Hutton's judicial inquiry published a report into the death of the scientist Dr. David Kelly in 2003].
"Publish part one of the report at same time as the police closes its inquiry and clear you and accept short comings and new solutions and process and part two when any trials are over."
The email also involved some more personal advice like "Keep strong and definitely sleeping pills. Need to have clear heads and remember no rash short term solutions as they only give you long term headaches.
"It will pass. Tough up."
She ends the email with the indication that Mr. Blair will send through notes later and says: "He is available for you KRM (Rupert Murdoch) and me as an unofficial adviser but needs to be between us."
Mr. MacDonald was a close friend of the Blairs and held senior posts in the Labour government. He was mentioned as a good choice in the email.
Article viewed on Oye! Times at www.oyetimes.com.