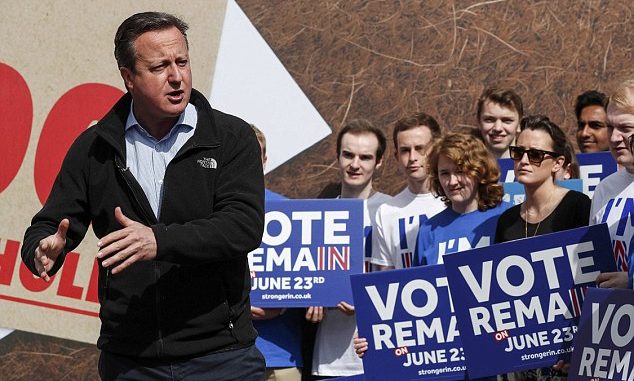 UK Prime Minister David Cameron has cautioned Brexit supporters that leaving EU would cost Britain major funding issues because it would lose investments like the £16billion invested into infrastructure projects by the European Investment Bank over the past three years. According to Mr Cameron, leaving the EU would have a 'devastating impact' on future major road, rail and education projects.

In his remarks, Mr Cameron explained that "vital projects across every region of the UK have been financed by the EIB. These make a huge difference locally, nationally, and sometimes globally" adding that "not only would leaving the EU see us wave goodbye to this crucial funding – but, with a smaller economy hit by new trading barriers and job losses, it's unlikely we'd be able to find that money from alternative sources." Moreover, Cameron alleged that "infrastructure affects the competitiveness of every business and the prosperity of every family in the country – but a Leave vote on June 23 risks putting the brakes on the infrastructure investment we need and shifting our economy into reverse."

The projects that have received EIB support include purchasing new super express trains for the East Coast Main Line, the extension of the M8 motorway between Edinburgh and Glasgow, and the expansion of Oxford University's research and teaching facilities. Most recently, EIB announced this week that a £700 million loan to help fund the £4.2 billion Thames Tideway Tunnel. Currently, 16 per cent of EIB is owned by the British government and last year the organization allocated £5.6 billion to 40 projects in Britain.