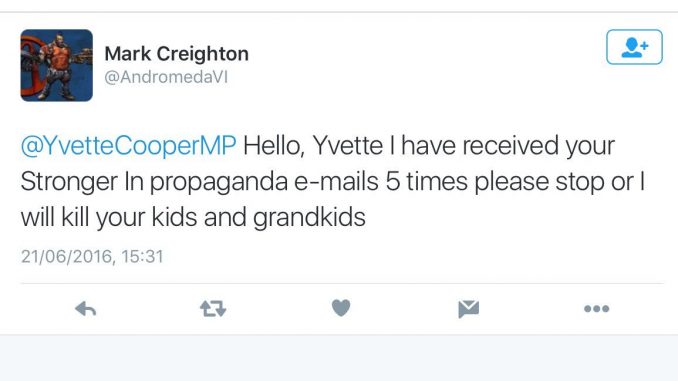 This article was last updated on April 16, 2022

Labour MP Yvette Cooper has shared a death threat she received with police and her Twitter followers that is apparently linked to her stance on the EU referendum. In a tweet posted from her Twitter account, Cooper stated that "got this today for speaking out for Remain. This has to stop," as she attached an image of the message. Later she also confirmed to have reported the threat to the police.
Cooper became the first MP to take maternity leave in 1999. She has three children including 17-year-old Ellie, 14-year-old Joel and 11-year-old Maddy. In her political career, Cooper has served as home secretary, the MP for Normanton, Pontefract and Castleford, and she recently became a vociferous campaigner for Britain to remain a member of the European Union. The death threat is being treated seriously also because Cooper's fellow Labour MP Jo Cox was shot and stabbed to death outside a surgery in her Batley and Spen constituency last week.
According to Cox's husband, Brendan, he believes his wife was targeted because of her beliefs. He revealed that "she had very strong political views and I believe she was killed because of those views," adding that "she died because of them and she would want to stand up for those in death as much as she did in life." Brendan stated that Cox had expressed concerns that the rising temperature of the EU referendum debate was "whipping up fears and whipping up hatred".
You can publish this article on your website as long as you provide a link back to this page.