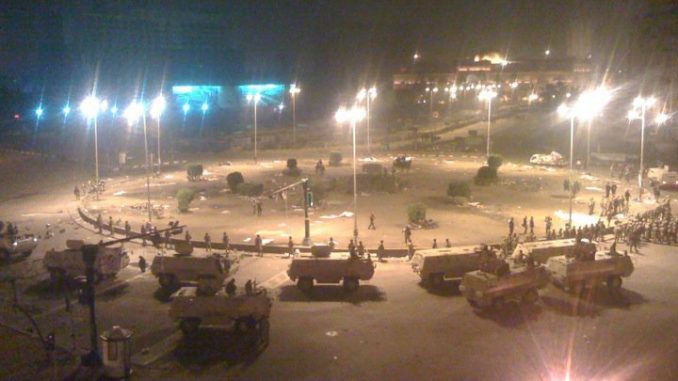 Egypt's finance minister, El-Beblawi and deputy prime minister, Hazem al-Beblawi have resigned on Tuesday in protest over the government's handling of deadly weekend protests.
On Monday, Egyptian Prime Minister, Essam Sharaf has chaired a meeting that was called soon after the clashes involving soldiers and Coptic protesters resulted in at least 25 dead and hundreds wounded.
Coptic Christians, who comprise about 9% of Egypt's population, have faced serious violence in the recent months. An Alexandrian Coptic church was bombed on New Year's Day, killing 23 people, the deadliest attack on Christians in Egypt recently seen; clashes involving Coptic Christians in May left at least 12 dead.
Egypt's Copts trace their roots to the teachings of Gospel author John Mark, who traditionally introduced Christianity intoEgypt; Copts come apart with other Christians in the 5th century over the definition of the divinity of the Christ.
Military vehicle become a major source of these killings as it done the damage through crushing protesters. Sunday's violence has resulted from rising sectarian tensions after the recent destruction at a Coptic church; Copts protested on Sunday to demand that the military should provide equal security for Christian's sacred worship places. But what happened after was not understood as demonstrators had told that the protest was carried out peacefully towards the Egyptian state television building when the riots suddenly occur.
Lt. Col. Amr Imam has claimed that 12 soldiers were killed and more than 50 were wounded. He was amazed that it was the first time ever that the protesters fired at the army. This act of violence was very much unlike that of Egyptians. Doss has demanded that the army should check the bullets that killed its soldiers as they do not own any weapons.
El-Beblawi has said that as the government failed to ensure the security of its citizens so, he had to resign as the new situation requires different way of thinking and working. El-Beblawi's resignation, in addition to the continuing political instability in the country, is likely to further damage the country's economy through shaking investor's confidence in Egypt.
Click HERE to view the photos of brutality
Article viewed on Oye! Times at www.oyetimes.com