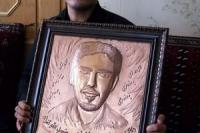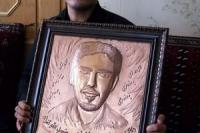 The brother of Kianoush Asa, one of the protesters slain during the clampdown on anti-government protesters in 2009, has been detained.
According to opposition website Jaras, Aziz Daneshvar Asa, has been arrested and is currently being held by the Revolutionary Guard in Kermanshah. It's still unclear why Aziz had been arrested, the family told Jaras.
Agents from the Revolutionary Guard reportedly went to Asa's house on Friday and summoned him for a "number of explanations." Nevertheless the family allege that "Aziz went there at 9:30am and never returned home."
On 15 June 2009, Kianoush Asa, Aziz's younger brother, was killed during massive protests in Tehran against the results of Iran's disputed presidential election. The family could not identify Kanoush's body until eight days later. He had been shot twice.
Thus far, the family's efforts to identify Kianoush's killers have been futile.
Since his tragic death, the Asa family, have been continuously harassed and intimidated by the authorities. Despite being summoned numerous times, this is the first time that Aziz has been imprisoned, the family explain.

Click HERE to read more.