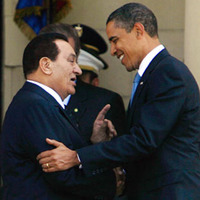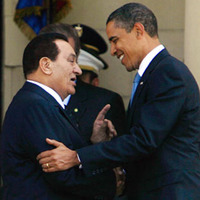 Current as of Sunday, January 30, 2011 at 3pm EST (8pm GM)
Egypt is in its sixth day of unrest.
Al Jazeera
has reported on a speech given by Mohamed ElBaradei in Cairo's Tahir Square on Sunday evening in which this leading opposition figure has called once again for Mubarak to negotiate a transition of power. Stating that there is no going back after what has happened over the past few days, ElBaradei wants legitimate change in Egypt and not a continuation of the status quo.
Al Jazeera has put together some great
photographs of the crisis in Egypt
.
I was there in Egypt in February 2010 so looking at these photos brings back some terrific memories but also shock at seeing how the situation has degenerated. I live in downtown Toronto and was there during the rioting of the G-20 summit. It is this same type of upset to see a city go from what is working normally into a full scale crisis.
Who is Mohamed ElBaradei?
Mohamed Mustafa ElBaradei (born June 17, 1942) was the Director General of the International Atomic Energy Agency (IAEA), an inter-governmental organisation under the auspices of the United Nations from December 1997 to November 2009. ElBaradei and the IAEA were jointly awarded the Nobel Peace Prize in 2005.
From Wikipedia :
ElBaradei's name has been circulated by opposition groups since 2009 as a possible candidate to succeed President Hosni Mubarak in Egypt's highest executive position.
ElBaradei did not make any clear statements regarding his intentions to run for the office; however, he has demanded that certain conditions have to be met to ensure fair elections accompanied by changes to the constitution that will allow more freedom for independent candidates before he would actually consider running for presidency. Several opposition groups and parties have endorsed him, considering him a neutral figure who could transition the country to greater democracy.
On 24 February 2010, ElBaradei met with several opposition leaders and notable intellectuals at his home in Cairo. The meeting was concluded with an announcement for the formation of a new non-party-political movement called "National Association for Change". The movement aims for general reforms in the political scene and mainly article 76 of the Egyptian constitution, which places restrictions on true free presidential elections, especially when it comes to independent candidates. The banned political group the Muslim Brotherhood were represented by one of their key figures who attended the meeting; however, their stand in accepting a non-member of their group as a candidate is yet unclear. It is also unknown whether Amr Moussa, the head of the Arab League who met with ElBaradei a day earlier, will be part of the new movement.
While speaking at the Harvard Kennedy School of Government on 27 April 2010, ElBaradei joked that he was "looking for a job" and is seeking to be an "agent of change and an advocate for democracy" within Egyptian politics. He also made clear that his wife is not very enthusiastic about any potential run.
On January 27 2011, Mohamed ElBaradei returned to Egypt amid ongoing turmoil, with the biggest mass protests in 30 years. ElBaradei declared himself ready to lead a transitional government if that was the will of the nation, saying that: "If [people] want me to lead the transition, I will not let them down". Subsequently, "when he joined protesters Friday after noon prayers, police fired water cannons at him and his supporters. They used batons to beat some of ElBaradei's supporters, who surrounded him to protect him." On January 28, 2011, ElBaradei was reported to have been placed under house arrest in Egypt. However, the next day, when he was interviewed by Al Jazeera, he said he was unaware of any such arrest.
Iran
Time
has reported that Iran is looking at Egypt nervously. The government is trying to put a spin on it by saying this is an Islamic uprising against a Zionist government but Teheran is worried about the implications for its own country. When Iran confronted its own mass uprising after the 2009 elections in the wake of President Mahmoud Ahmadinejad's contested election victory, the authorities unleashed a brutal force to quell the protesters.
However, if Mubarak falls, this will certainly represent a major shift in the dynamics of the Middle East which could be beneficial to Iran. America has a strong ally in Egypt but if a change in government changes the relationship, Egypt could move away from the U.S. and end up closer to the rest of the Arab world. Currently Iran and Egypt have no ties.
Sudan
The Washington Post in their
Live Updates Blog
is saying as of 1pm that Khartoum, the Sudanese capital has seen clashes between students and police. The students, apparently inspired by events in Tunisia and Egypt were calling for the end of the goverment. WP said that students are using the hash tag #SudanJan30 (
http://twitter.com/#!/search/%23SudanJan30
) to communicate on Twitter and Facebook
The Real Problem: Marginalisation
Al Jazeera has a
telling article
about the real problem spreading across the Maghreb. It isn't terrorism, it is the socio-economic marginalisation for the millions of educated youth who make up a large portion of the region's population.
Historically, those in power handed out food in return for political passivity. However food is no longer sufficient to placate the masses; they want to vote; they want to participate. An educated population wants more but are those in power willing to give more as at some point, those people may want democracy which doesn't exactly go along with an authoritarian or dictatorial rule.
Breaking Egypt's Internet Blockade
The Egyptian government may have shut down Internet access last Thursday around midnight, but that hasn't stopped people from finding inventive ways of staying in touch. According to the
Wall Street Journal
, a small
French ISP
is providing dial-up access for anybody in Egypt with a modem and an International calling service. The article also talks of one couple who has published in their blog (
http://manalaa.net/dialup
) how to circumvent the Egyptian system and connect to the outside world.
Whatever the case, the Internet being cut is a major blow to communications but that doesn't mean communications are completely cut. As the old saying goes, where there isa will, there is a way.
Videos
live footage of water canon in the streets
http://www.youtube.com/watch?v=OoKQLr439Ww
Al Jazeera: Anti-government protests continue in Egypt – Jan 30/11
A collection of video images from Sunday's protests across the embattled country.
http://www.youtube.com/watch?v=XpNrp_e3jaQ
Live clashes between police and protesters from hotel window – Jan 30/11
I'm not sure but this video could be from Friday. Nevertheless, it does show exactly what's going on and how large the protests are.
http://www.youtube.com/watch?v=xkRwqV-lvJY
Click HERE to read more from William Belle.