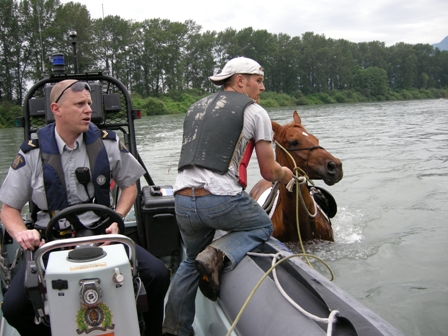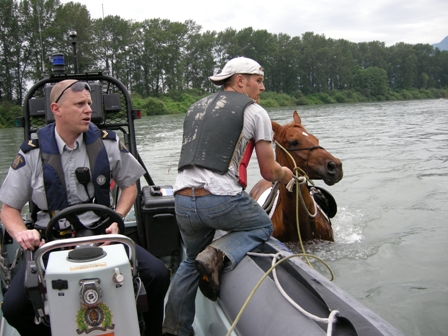 At approximately 3:15 PM on June 28, 2011, Chilliwack RCMP received a call of a horse and rider who had both fallen into the fast flowing Vedder River. The 31 year old female rider from Chilliwack was able to make it to out of the river on her own unharmed but the horse continued on down the river.
The horse and rider were riding along the waters edge near Hopedale Road in Chilliwack when the horse got spooked and fell into the water. The horse was spotted a few times as it passed Yarrow and made it's way down the Vedder Canal. Chilliwack RCMP were advised and were unable to have Air Services attend so made the decision to launch the RCMP Zodiac into the river. A Gereral Duty member assisted by two members of the First Nations Policing unit picked up a local horse wrangler who was in a small boat attempting to rescue the horse.
After two hours in the icy water, police came upon the horse as it was approaching the Keith Wilson bridge. The horse wrangler lassoed the horse and guided it onto shore safely. "As a police officer, you never know what a day will bring," said Cst. Tracy Wolbeck. "It's pretty miraculous that the horse and rider made it out unharmed and that our members were able to respond as quickly as they did." "It was a happy ending for everyone."