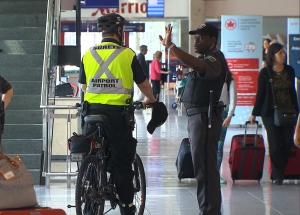 The Public Security Minister, Martin Coiteux, has mentioned in a recent remark that he is monitoring the whole situation at Trudeau airport in Quebec City carefully. According to Coiteux, "there are serious issues that have been raised, which is why I questioned the federal Transport Ministry," adding that "but there are police on the scene and I have assured myself that they are well aware and are following the situation closely."
A report published by the Journal de Montréal and on TVA network's J.E. has pointed out that four airport employees, including two currently working at the airport, have shown signs of radicalization that police investigators are considering worrisome. Reports confirm that some of the suspects visited pro-ISIL websites or published propaganda on social media and consulted an "abnormal number" of documents explaining how to make homemade explosives.
However, Aéroports de Montréal authorities have stressed that the airport is safe and "among the most secure locations there is." The airport pointed out that in addition to its own safety and security patrols, it is closely collaborating with the Royal Canadian Mounted Police, Canadian Security Intelligence Service (CSIS) and the Sûreté du Québec, the company said in a statement issued late Tuesday night. The statement claimed that "not only is there a large concentration of human and technical resources dedicated to safety and security, they are gathered in one place within permanent and effective coordinating structures."


Loading ...