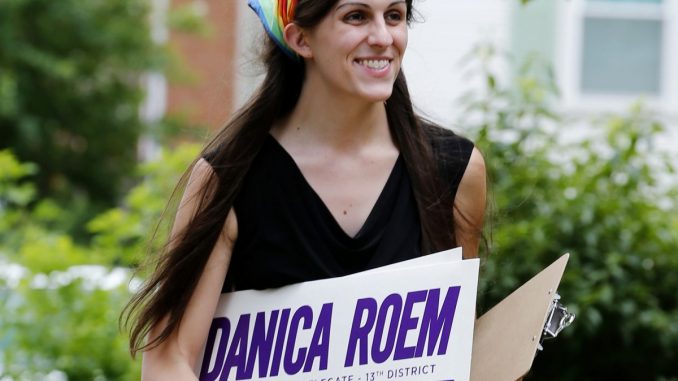 Consider this to be yet another glass ceiling shattered for good. On Tuesday, Danica Roem made history when she became the first openly transgender elected official in Virginia, The Washington Post reports. She also became the first openly transgender person to serve in a state legislature in the U.S.
Roem, a Democrat, defeated incumbent Republican Bob Marshall for a seat in the Virginia House of Delegates representing the 13th district. With 90% of the votes tallied, the 33-year-old defeated Marshall by nearly 10%, according to The Washington Post.
"A message of inclusion and equality resonated here, and for a national audience. I think it's really important that discrimination is a disqualifier and you can champion inclusion, you can champion equality and equity, and you can win," Roem told MSNBC's Lawrence O'Donnell.
"There won't be discriminatory legislation coming out of the 13th district… I'm going to be a champion for equality," she added, noting that she has nothing negative to say about Marshall. "He'll be one of my constituents and I'm not going to attack my constituents," Roem said.
Roem is a former local investigative reporter who covered government issues. (Fun fact: She's also the
vocalist of her own metal band
.) Throughout her campaign, she focused on policy priorities from infrastructure to education. But naturally, her gender identity and the possibility she could become the first transgender person to be elected to serve in a statehouse also caught the nation's attention.
Her victory was nothing short of impressive: Marshall, her opponent, had been a delegate for 11 consecutive terms. Not only that, he is also a social conservative with an anti-LGBTQ record. In 2014, Marshall drafted a letter calling on Virginia Gov. Terry McAuliffe to defend the state's constitutional amendment ban on same-sex marriage. Earlier this year, he authored the state's own "bathroom bill, which was even stricter than the infamous HB2 in North Carolina. Marshall also consistently misgendered Roem during the campaign — calling her a "he" and refusing to acknowledge her as a woman — while refusing to debate her.
Though Roem's campaign focus was on policy rather than her her gender identity, her win is a huge step forward for LGBTQ representation in politics. After the 2016 election, there were only 105 openly LGBTQ state legislators across the country — fewer than in past cycles. So not only is Roem's win historical, it is also step forward for transgender representation in government.
Roem's win was a highlight of a successful night for Virginia Democrats. Ralph Northam was victorious in the governor's race, and Roem is headed to the state legislature with fellow Democrats Chris Hurst and Elizabeth Guzmán.
Click HERE to read more from Refinery29


Loading ...