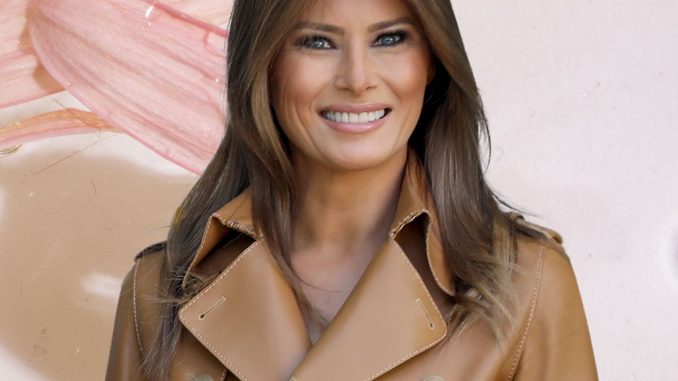 First Lady Melania Trump does not appear to be in step with her husband when it comes to LeBron James.
Melania Trump's office issued a statement this weekend in support of James' newly-launched public elementary school, the I Promise School in Akron, OH for at-risk children. The release comes on the heels of President Donald Trump's Friday night fiasco, when he live-tweeted his reaction to an interview between James and CNN's Don Lemon. During the interview, the NBA star observed that Trump is "using sports to kinda divide people."
"LeBron James was just interviewed by the dumbest man on television, Don Lemon," the president wrote in response. "He made LeBron look smart, which isn't easy to do. I like Mike!"
Lebron James was just interviewed by the dumbest man on television, Don Lemon. He made Lebron look smart, which isn't easy to do. I like Mike!
— Donald J. Trump (@realDonaldTrump) August 4, 2018
While he's been an outspoken critic of the president before, James hasn't yet responded publicly to this tweet. But, for the record, Mike himself likes James just fine. Michael Jordan released a statement shortly after, expressing his support for James' community-oriented work. Lemon's response to the president echoed the sentiment and also put the first lady in the hot seat by calling out her anti-bullying campaign, tweeting, "Who's the real dummy? A man who puts kids in classrooms or one who puts kids in cages? #BeBest."
NEW: Jordan sides with James over Trump tweet. NBA legend Michael Jordan tells NBC News through a spokesperson: "I support LJ. He's doing an amazing job for his community."
— Geoff Bennett (@GeoffRBennett) August 4, 2018
Who's the real dummy? A man who puts kids in classrooms or one who puts kids in cages? #BeBest https://t.co/XO50qVksnR
— Don Lemon (@donlemon) August 4, 2018
Compared to her husband, it would seem Melania Trump is taking a different view of James' I Promise initiative altogether.
"It looks like LeBron James is working to do good things on behalf of our next generation and just as she always has, the first lady encourages everyone to have an open dialogue about issues facing children today," her statement read. In addition, it said that Melania Trump would be open to visiting the I Promise School.
The statement took a positive approach to James' work — and notably kept the president's contentious rhetoric out of it. A senior White House official since told ABC News that Melania Trump is not "taking sides" against the president. "That wasn't her taking sides — that was her office [sticking] to what she is focused on, which is using Be Best for what it's intended — to help children," the official said.
A stream of fellow NBA players, athletes, and journalists, including Lemon, Steph Curry, Adam Rippon, and Jemele Hill, also rallied in support of James, criticizing the president's inaction on this and other issues and questioning the barely-veiled racism behind his attack.
Melania Trump, who has developed a reputation as a silent, uncomfortable, and private first lady, has rarely taken a stance against any of Donald Trump's controversial policies or tweets. She released a statement saying she "hates to see children separated from their families" at the border as a result of the administration's zero-tolerance immigration policy and was criticized for doing too little, too late. Her visit to detention centers at the border stoked further controversy about her stance on the issue when she was photographed wearing a jacket reading, "I REALLY DON'T CARE, DO U?".
Her true opinions remain hard to pin down, but various outlets report that Melania Trump's priorities still widely differ from her husband's, and the apparent dissonance between the pair serves to reinforce the strangeness of this administration — one in which the president uses his Twitter account to issue both policy announcements and personal opinions, and it's not always clear which is which. With the first lady jumping into the fray, translating a celebrity feud into political action, it becomes even more difficult to tell the difference.
This story has added reporting throughout as new information became available after publication.
Click HERE to read more from Refinery29

Loading ...