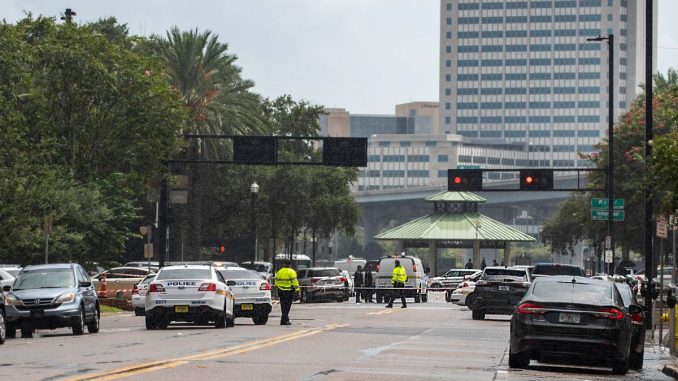 A mass shooting happened in a Jacksonville, FL mall today, during a video game tournament.
The Jacksonville Sheriff's Office tweeted that there are multiple fatalities, with one suspect, a white male named David Katz, age 24, dead at the scene. In a press conference, Sheriff Mike Williams confirmed that there are no additional suspects. The shooting was committed using a single handgun. The shooter is from the Baltimore area, and Williams said the FBI are assisting investigations there. The Baltimore Sun reports that authorities were seen at a South Baltimore home.
In a second press conference, Williams confirmed that there were 13 known victims. Two were killed on site, nine were transported to local hospitals and of those, seven were treated for gunshot wounds. Two additional gunshot victims transported themselves to hospitals. All the living victims are in stable condition. The identities of the victims have not yet been revealed. Police are asking any other victims who self-transported to hospitals to contact them.
The shooting reportedly happened during a qualifying event for the Madden 19 Tournament, a football video game by EA at Chicago Pizza. Shots were fired at 1:34 p.m. ET and officers were on the scene by 1:36.
The event was livestreamed on the gaming platform Twitch. While the video from the event has been removed, the New York Times reports that 12 shots were heard and a red laser dot was spotted on the shirt of a player. Williams asked any other onlookers with video or information about the shooting to reach out to the Jacksonville Sheriff's Office.
The Los Angeles Times spoke to Steven "Steveyj" Javaruski, a competitor in the tournament, who says the shooter was a gamer who lost the competition. According to Javaruski, he targeted a few other participants, shooting "at least five" before turning the gun on himself.
Jacksonville Landing
, and requested that people hiding in the mall to call 911 to and report their location so a SWAT team could find them. At the first press conference, Williams confirmed that police had cleared the location.
We can't stress enough to stay away. Many blocks away. https://t.co/qBJvkaO7xT
— Jax Sheriff's Office (@JSOPIO) August 26, 2018
Multiple fatalities at the scene, many transported. #TheLandingMassShooting https://t.co/qBJvkaO7xT
— Jax Sheriff's Office (@JSOPIO) August 26, 2018
One suspect is dead at the scene, unknown at this time if we have a second suspect. Searches are being conducted. https://t.co/qBJvkaO7xT
— Jax Sheriff's Office (@JSOPIO) August 26, 2018
We are finding many people hiding in locked areas at The Landing. We ask you to stay calm, stay where you are hiding. SWAT is doing a methodical search inside The Landing. We will get to you. Please don't come running out. #TheLandingMassShooting https://t.co/qBJvkaO7xT
— Jax Sheriff's Office (@JSOPIO) August 26, 2018
**IMPORTANT** If you are hiding in The Landing. Call 911 so we can get to you. #TheLandingMassShooting https://t.co/qBJvkaO7xT
— Jax Sheriff's Office (@JSOPIO) August 26, 2018
One victim, Drini Gjoka, tweeted that he was "lucky" to have only been shot in the thumb, calling it the "worst day of my life."
Florida Governor Rick Scott tweeted that the state has offered the Jacksonville police any resources they may need.
I've spoken to @JSOPIO Mike Williams to offer any state resources he may need. FDLE is currently responding, and I have spoken to FDLE Commissioner Rick Swearingen regarding the shooting in Jacksonville. We will continue to receive updates from law enforcement.
— Rick Scott (@FLGovScott) August 26, 2018
Press Secretary Sarah Huckabee Sanders told the media that President Donald Trump has been briefed and is monitoring the situation. He has reportedly reached out to Scott to offer assistance, but has yet to make a public statement.
In a statement to The Hollywood Reporter, a spokesperson for EA said, "We are aware of an incident at a sanctioned Madden Championship Series competition in Jacksonville. We are working with authorities to gather facts at this stage. This is a horrible situation, and our deepest sympathies go out to all involved."
The NFL, who are a partner in the game, tweeted, "We are shocked and deeply saddened by the horrific tragedy today in Jacksonville. Our hearts go out to all those affected. We are grateful for the first responders immediately on the scene. We support our partners at EA Sports and will continue to monitor developments with local law enforcement."
Concealed carry of guns is legal in Florida, with a license, but the Landing does not allow guns on the property. "Possession of a weapon, even if legally carried (except by law enforcement officers) is absolutely prohibited on Landing property," the Landing's website reads.
If you or someone you know is considering self-harm, please get help. Call the National Suicide Prevention Lifeline at 1-800-273-8255.
This is a breaking news story, please check back for updates.
Click HERE to read more from Refinery29


Loading ...