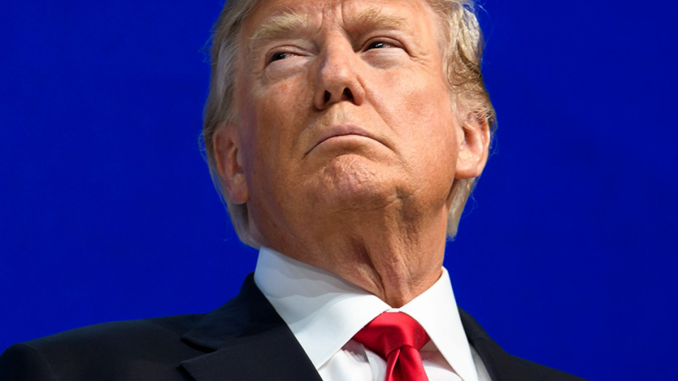 While we might draw a reasonable conclusion that the political divide in America is the worst that it has been in our collective lifetimes and that much of the divisive hysteria began with the 2016 election of Donald Trump, history shows us that this conclusion isn't entirely valid. If we look back 25 years, we can track the genesis of the partisan hyperbole that infects Washington and the greater United States.
Back in 1990, then Republican Whip and future Speaker of the House Newt Gingerich was the general chairman (with former president Gerald Ford as Honorary Chairman) of a conservative Republican group, GOPAC, a combination of G.O.P. for the Grand Old Party and P.A.C. for political action committee even though it was not legally a political action committee and, under law, was not supposed to be engaging in federal election campaigns. GOPAC was touted as a "new citizens' movement in America" and took significant steps to ensure that Republican members would be elected in the next general election, resulting in a governing majority that would result in a United States that was formed around conservative principles.
Here is letter dated May 31, 1990 from Newt Gingrich to Tim Robertson of the Family Channel, then owned by Pat Robertson of the conservative Christian ideology, who was donating one hour of airtime per month to GOPAC under the auspices of the "American Citizens' Television" or ACTV, a project of the Abraham Lincoln Opportunity Foundation (a 501(c)3 organization):


Here is a copy of a mailout that explains ACTV and how American voters could get involved:

Here is a copy of a letter from Newt Gingerich drumming up support for GOPAC:


Here is an excerpt from a GOPAC focus group research project from July 1990:

The conclusion of the focus group stated that younger voters are the right target group for a majority strategy and that "
political theory and language needs to be effective with them if it is to be effective at all
".
In 1992, GOPAC started a project called "Change Congress NOW!" Here is an excerpt from a memo dated October 26th, 1993 from Newt Gingerich regarding GOPAC, addressed to new members of his staff:
We are going to renew American civilization
We are going to replace the welfare state
We are going to elect a Republican majority in the House.
Here are the notes for a speech that Newt Gingerich gave to the National Review Institute on January 23, 1993:





Now, most importantly and the main point of this posting,
here
is an excerpt from a GOPAC memo entitled "
Language: A Key Mechanism of Control
" that was distributed to Republican candidates across the nation for the 1996 election:
"As you know, one of the key points in the GOPAC tapes is that "language matters." In the video "We are a Majority," Language is listed as a key mechanism of control used by a majority party, along with Agenda, Rules, Attitude and Learning. As the tapes have been used in training sessions across the country and mailed to candidates we have heard a plaintive plea: "I wish I could speak like Newt."
That takes years of practice. But, we believe that you could have a significant impact on your campaign and the way you communicate if we help a little. That is why we have created this list of words and phrases.
This list is prepared so that you might have a directory of words to use in writing literature and mail, in preparing speeches, and in producing electronic media. The words and phrases are powerful. Read them. Memorize as many as possible. And remember that like any tool, these words will not help if they are not used.
While the list could be the size of the latest "College Edition" dictionary, we have attempted to keep it small enough to be readily useful yet large enough to be broadly functional. The list is divided into two sections: Optimistic Positive Governing words and phrases to help describe your vision for the future of your community (your message) and Contrasting words to help you clearly define the policies and record of your opponent and the Democratic party.
Please let us know if you have any other suggestions or additions. We would also like to know how you use the list. Call us at GOPAC or write with your suggestions and comments. We may include them in the next tape mailing so that others can benefit from your knowledge and experience."
Let's focus on the words (i.e the "contrasting words" that were recommended to define Democrats, their legislative record, their proposals and their party as a whole:
abuse of power
anti- (issue): flag, family, child, jobs
betray
bizarre
bosses
bureaucracy
cheat
coercion
compassion" is not enough
collapse(ing)
consequences
corrupt
corruption
criminal rights
crisis
cynicism
decay
deeper
destroy
destructive
devour
disgrace
endanger
excuses
failure (fail)
greed
hypocrisy
ideological
impose
incompetent
insecure
insensitive
intolerant
liberal
lie
limit(s)
machine
mandate(s)
obsolete
pathetic
patronage
permissive attitude
pessimistic
punish (poor …)
radical
red tape
self-serving
selfish
sensationalists
shallow
shame
sick
spend(ing)
stagnation
status quo
steal
taxes
they/them
threaten
traitors
unionized
urgent (cy)
waste
welfare
In case you were curious, here are screen captures showing all four pages of the original GOPAC document



GOPAC was quite aware that language, particularly inflammatory language, had a significant impact on the voting public. As you can see, many of these words are divisive, particularly a word like "traitor". Mr. Gingerich's goal was to characterize his political opponents as enemies, a strategy that ultimately ended up undermining public trust in Congress and making it difficult for both sides of the political spectrum to meet in the middle and actually accomplish important legislative matters.
In today's "win at any cost" politics, Mr. Gingerich and GOPAC's tactics look positively tame. That said, the political tactics adopted in the early- and mid-1990s set the stage for the political polarization, partisan divisions and hyperbole that are plaguing American political theatre today.
Click HERE to read more from this author.


Loading ...