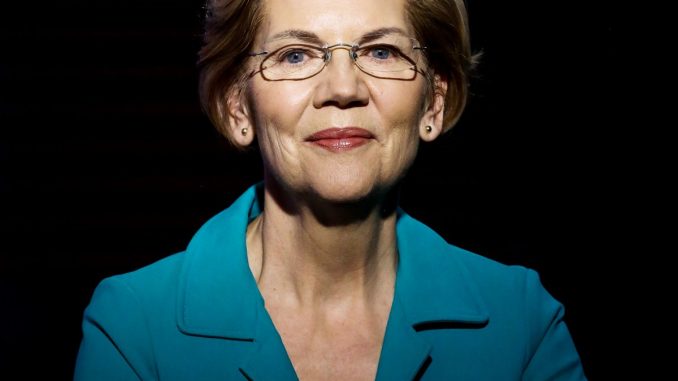 FLORENCE, SC – OCTOBER 26: Democratic presidential candidate, Sen. Elizabeth Warren (D-MA) addresses a crowd outside of the Francis Marion Performing Arts Center October 26, 2019 in Florence, South Carolina. Many presidential hopefuls campaigned in the early primary state over the weekend, scheduling stops around a criminal justice forum in the state capital. (Photo by Sean Rayford/Getty Images)
"I'm angry and I own it." That was the message Sen. Elizabeth Warren sent supporters in an email on Friday, Nov. 8. Her new fundraising rally cry followed comments former Vice President Joe Biden made just a few days earlier that Warren has an "angry, unyielding viewpoint," marking a shift in how she's approaching her fellow presidential hopeful.
"Over and over, we are told that women are not allowed to be angry," Warren's email read. "It makes us unattractive to powerful men who want us to be quiet." But, Warren explained, that anger can be a powerful thing, which is why she's willing to own hers. As she wrote, it's anger on behalf of students drowning in student loan debt or families struggling to pay their medical bills. "When we see these injustices in the wealthiest country in the history of the world," her email continued, "we should be angry."
While Warren never mentioned Biden directly in her message, it's hard to imagine this email isn't aimed at him. Especially since the two Democratic frontrunners, based on recent polls, have been ramping up their attacks on one another as of late.
Biden's "angry" comment came from a November 5 Medium post that also went after his Democratic primary challenger's "elitism" without citing her by name. These more aggressive remarks came after Warren implied Biden was "running in the wrong presidential primary" following his criticism of her Medicare for All plan. "I'm responding to her attack, her comments," Biden told reporters on Wednesday of his more personal strikes against Warren, according to CNN.
This new, more confrontational back-and-forth might just be what voters can expect to see more as we get closer to the 2020 presidential primary. On Saturday, when The New York Times asked Warren if Biden would call her "angry" if she was a man, she said, "Why don't you ask him that?"
Click HERE to read more from Refinery29


Loading ...