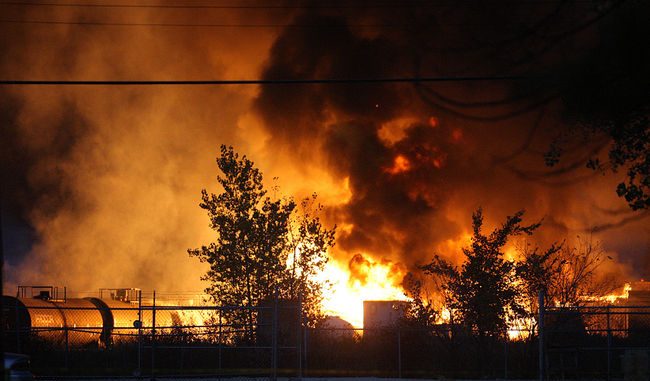 It took a combined effort of a police helicopter, some military emergency equipments and CN Rail employees, along with more than 50 firefighters in Winnipeg to cope with the huge chemical warehouse fire overnight. The huge fire at a Speedway International fuel facility, on Nicolas Street, was taken down after burning on its own for roughly seven hours on Monday.

The fire was reported to have begun at 5:30 p.m. local time, when the witnesses claim they saw imagery of gigantic fireballs, and heard more than a few explosions in the area. Military emergency vehicles had to be deployed for spraying fire-retardant foam on the site, whereas Winnipeg's police helicopter was placed for providing an aerial luminosity over the fire crews after sundown. The CN Rail crews were put into practice for moving the train tankers from the premises before the evacuation.

Winnipeg Fire Chief, Reid Douglas, explained later that his crew had to retreat for some time, even though it meant leaving a fire truck stranded, when a tanker truck blew up near the warehouse. He stated that "we did have a tanker explode here earlier that sent flames about half-a-mile in the air." He declared that "It was pretty significant, and it caused us to rethink our strategy." It was not until late Monday night that the fire lessened to a degree which would allow the fire crews work and cover the situation.

Finally, at almost past 12:30 a.m., the City of Winnipeg declared that it was safe for the hundreds of residents to return home.