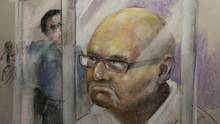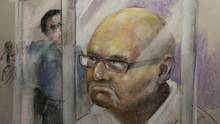 The suspect of the election-night shooting in Quebec , which took one life and eclipsed the victory joy of Premier Pauline Marois, was brought in court today with bloody wounds on his head. He implied that his bruises were a result of rushing him on his way to the courthouse. Richard Henry Bain was speaking to his lawyer in Quebec Court on Thursday, when he implied that "a guard pushed me."

In the court proceedings Mr. Bain's lawyer asserted that she is waiting for the full recording of a controversial jailhouse interview given by Mr. Bain to a private Montreal radio station on Sept. 19. According to the lawyer, Elfriede Duclervil, that 38-minute interview was a major part of the reveling some evidence from the Crown. Just a part of the interview was publicly broadcasted.

Mr. Bain was given the permission of doing an interview while he was in a hospital at the Rivière-des-Prairies detention centre in Montreal. Ms. Duclervil also asked the court to investigate the reason of Mr. Bain's injuries identified on Thursday.

62-years-old Mr. Bain is indicted with 16 different criminal offences including first-degree murder in the attack, attempted murder and arson. He supposedly shot a lighting technician, Denis Blanchette, during Premier Marois's speech to her supporters inside the Métropolis nightclub in downtown Montreal on Sept. 4. He is also blamed for setting fire to the back door of the club as well. Mr. Bain is now scheduled to return to court on Dec. 7.