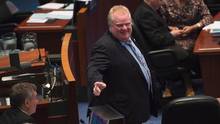 This article was last updated on April 16, 2022

The abruptly scheduled Toronto city council meeting on Tuesday resulted in a vote against the proposal of a downtown casino, summing up a year-long debate which included a long list of proposals from the U.S. gambling firms and a citizens-led campaign against them. Additionally, the council also rejected the proposal of plans to include gambling at the city's existing casino at Woodbine Racetrack.
The voting was conducted during a special council meeting, summoned by a majority of councillors despite the mayor's objection, amid overwhelming accusations against Mayor Rob Ford of having been caught on camera while smoking crack. Mr. Ford has consistently refused to comment on the matter and abandoned a rush of reporters gathered outside his office. Mr. Ford has noticeably avoided any contact with press since he vaguely asserted that the allegations are "ridiculous." Ford's press secretory confirmed that as of late Tuesday morning, there are no plans to have the mayor comment on the accusations. Since the casino debate is now over, mayor's next official duty is in a week's time when he is to chair a regular meeting of his executive committee.
The mayor and his brother, Councillor Doug Ford, even cancelled their weekly radio show in effort of avoiding a response to the allegations. The allegations of a video showing Ford smoking crack was initially made by American gossip website, Gawker, and reiterated by the reporters of Toronto Star. Both have asserted to have seen the video, but refrain from verifying, confirming or authenticating the video.
You can publish this article on your website as long as you provide a link back to this page.