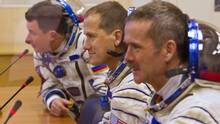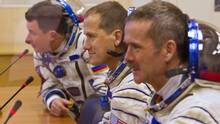 The Canadian astronaut who recently returned to earth after an almost five month long trip to space, Chris Hadfield, made an announced on Monday that he has decided to retire from the Canadian Space Agency next month. 53-year-old Hadfield made the announcement while attending an event in honor of his return to earth near Montreal, following the successful mission aboard the International Space Station (ISS). The cherished astronaut elucidated that since he recently completed his third space mission, it somewhat made sense now for him to retire.

Hadfield was addressing reporters about his plans for the future after resigning, when he stated that he will be taking some time off to think about it and to take a much-need break with family. He admitted having known several astronauts who had to struggle after announcing their retirement as they were unable to coop with life after the space program. Hadfield alleged that he has no intention of "disappearing" from the press and media, stating that he intends to carry on highlighting the importance of space exploration through public speaking and visits to Canadian schools through the CSA.

Hadfield acquired much acclaim and turned into somewhat of an Internet celebrity after his latest space mission at the ISS. He gathered infinite following as he sent out hundreds of photos of Earth taken from orbit. Hadfield will also be remembered as the first Canadian ever to head the International Space Station and supervise more than 100 science experiments.