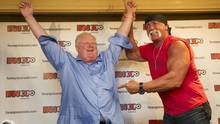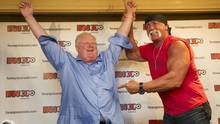 In the spirits of kicking off a Fan Expo in Toronto, Mayor Rob Ford made an aspiring attempt at an arm-wrestling challenge by his childhood hero, wrestling legend Terry "Hulk" Hogan. Mr. Ford seemed to be fully in the mood on Friday, entering to "Eye of the Tiger" by Survivor, as he stripped off his suit jacket, unfolded his tie and rolled up his sleeves before sitting down across from his opponent.

Consequently, Mr. Ford began exhibited his own muscles as he sat across the mountain of muscles, even though Mr. Hogan taunted Ford, saying "Brother, you know something? Not only am I going to rip this arm off, I'm going to take your job while I'm at it," adding "Mayor Hogan!" The competition ended soon in a 25-second battle, in which Mayor Ford easily crushed his competitor in an impressive bicep smackdown, causing Mr. Hogan to cradle his arm in defeat and say "I think he tore my shoulder out."

Soon after losing the match, Mr. Hogan declared that the mayor missed his calling as a wrestler, to which Mayor Ford generously replied, saying "thank you so much to the Hulkster for coming." Even though mayor had previously mentioned being nervous before the fight, he later alleged that it's not the size of the arm but how you use it. He added that "it's all in the wrist." Mr. Hogan is among dozens of celebrities in town to take part in Fan Expo, an annual pop culture and comic exhibition.