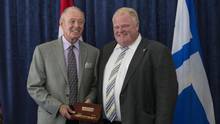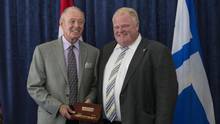 Toronto Mayor, Rob Ford, has declared unwavering support for council to organize a by-election to fill an empty council seat, although he is headed for a tough challenge to acquire the necessary votes on Monday. The vacant seat in Ward 3 covers parts of Etobicoke and was emptied earlier this month when Doug Holyday got elected to Queen's Park as a Tory MPP. The other possible option under consideration by the senate is a direct appointment.

A major section of Mayor Ford's spicy two-hour radio on Sunday focused on justifying his stance on recommending the senate to have a by-election. He revealed to have persuaded almost a dozen councillors, though he admitted that he needs at least support of as many as 18 or 19 to seal the deal. Several council members are inclined towards an appointment due to the estimated cost of a by-election being around $225,000, while also considering that all Toronto residents will be headed to the polls a year later anyway.

The mayor's office has disclosed that almost 35 out of the city's 43 councillors are anticipated to cut off their summer vacation in order to attend the special council meeting called upon the mayor's request. However, still several councillors who support the mayor's position, including Mark Grimes and Gloria Lindsay Luby, will be out of town for the vote. Even though Frances Nunziata is typically a strong supporter of Mr. Ford, he is now anticipated to declare a conflict of interest.