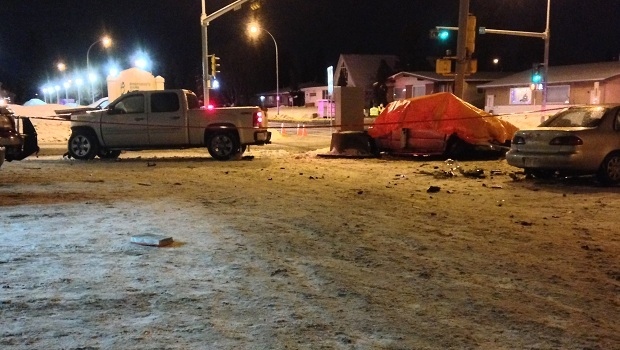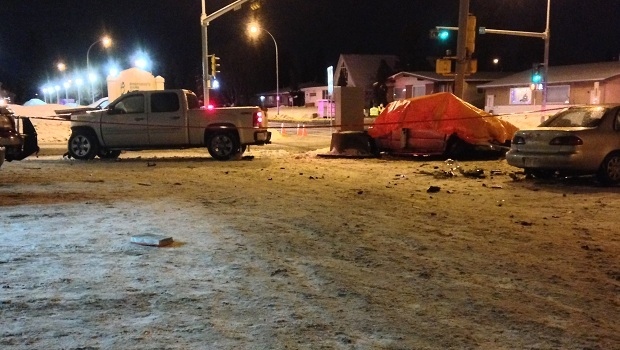 A collision in a northwest Edmonton intersection has resulted in one death, triggered a police investigation and closure of the intersection for several hours. According to initial investigation, the two pickup trucks crashed at around 9:30 p.m. near 135 Avenue and 127 Street. It was explained that one of the vehicles was heading northbound on 127 Street towards 135 Avenue, while the other was facing westbound, but waiting at a red light, when they collided.

Right after the collision, the first truck struck a large steel post northeast of the intersection, while the driver's door hit the post. A short while before emergency crews and police reached the scene, the 28-year-old woman driving the northbound truck was pronounced dead at the scene, while the 35-year-old male passenger of the truck was taken to hospital with non-life threatening injuries. In addition to the drivers, the two people inside the other vehicle suffered minor injuries, though they were treated and released by paramedics at the scene. Police had to shut down the intersection for traffic while crews cleaned up and officers investigated, after which it was reopened at 2:30 a.m.

Keeping in mind that the investigation is still ongoing, the police speculate alcohol and excessive speed to be one of the factors causing the crash. In another crash at the same intersection on May 24, an 86-year-old man passed away after the car he was driving was hit by an SUV driven by a 21-year-old man, who was charged with careless operation of a motor vehicle.