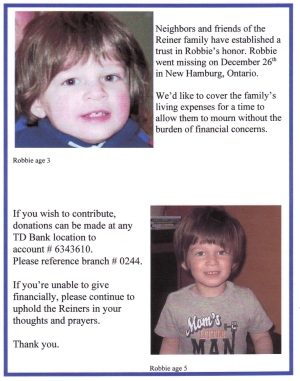 This article was last updated on April 16, 2022

Friends, neighbours and well-wishers of the five-year-old boy who went missing on Boxing Day, named Robbie Reiner, have recently announced to have established a trust for the Reiner family in order to help relieve the family's financial burden while they cope with their loss. Reiner's neighbor, Deb Wideman, mentioned that "we'd like to cover the family's living expenses for a time to allow them to mourn without the burden of financial concerns."
The authorities were alerted about Robbie's disappearance at around 4:40 p.m. on December 26, after which police investigated the incident and reached to the conclusion that he most likely fell into the Nith River, i.e. just behind his home in New Hamburg. A rescue and search mission was conducted for nearly five days by the Waterloo Regional Police in collaboration with the Kitchener, Wilmot and Cambridge fire departments and the Ontario Provincial Police. In addition to that, a team of police divers searched the waters of the Nith starting December 27, after which an OPP helicopter surveyed the waterway in search of new clues on Monday but did not find any good news. Consequently, Police announced to exhaust all remaining search options after that.
WRPS Staff Sgt., Shaena Morris, alleged that weather was the main deciding factors to end the search. It was added that "the ice, the current of the water and as well the observers in the helicopter were able to see that there was significant debris in the water as a result of the ice storm." Furthermore, Morris explained that "that's also created some difficult situations for searching."
You can publish this article on your website as long as you provide a link back to this page.